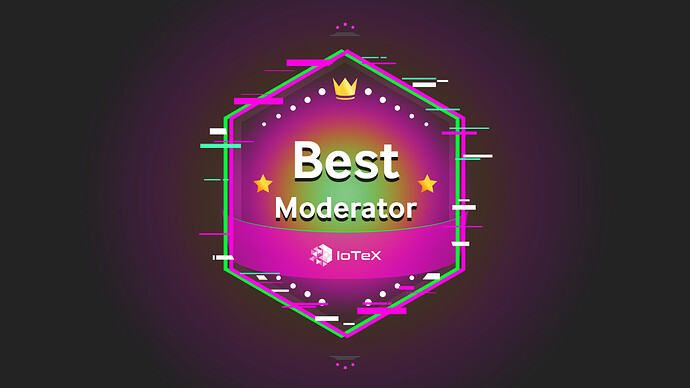 After launching IoTeX Brand Ambassador program 2.0 almost 2 years ago, IoTeX Moderators have put a lot of effort and time to support and develop the IoTeX community, as well as help every community member with their questions.
This campaign aims to evaluate the activity of our Moderators. This campaign will be on a monthly basis so keep an eye on Moderator`s work in our socials.
All moderators who are currently onboarded as an official IoTeX Moderator can take part in this campaign. Here is a full list of official Moderators and we will keep it updated every month:
Every month, the Community Manager will ensure that all Moderators have fulfilled their duties according to the internal rules and Moderator code. This will mean that all Moderators will be able to participate in Community Voting to select the Best Moderators of the month.
What follows is an equally interesting step that will show the value of Moderators` contribution - we need to get input from the community. The community will be able to show their love and appreciation for our Moderators by voting for them. The more votes Moderator gets, the more value he brought to the community during last month.
---
DURATION
Voting poll submission: every month during the first week Community Manage will post in this thread the up-to-date list of moderators for which you can vote.
Community voting: every IoTeX community member can join this thread and vote for your favorite moderator; the moderator you think has contributed the most to the community over the past month.
Hey moderators, feel free to promote yourself, encourage people to join the vote.
Voting will be posted in this thread each month during the first week of the month. All you have to do to vote is register on the IoTeX forum.
Voting will last 5 days each month.
YOU CAN FIND VOTING POLL HERE (voting will be published every month with a new comment in the thread)
---
Note: it is forbidden to use special platforms to promote content, promise rewards for votes, cheat votes with the help of bots and multi accounts, and any other ways aimed at fraudulently obtaining votes. Only real votes of users who are registered on the IoTeX forum and are members of the IoTeX community will be taken into account. If you get caught up in dishonest vote cheating, you will be expelled from this campaign.