Proposal details
Project Name
WEconomy, wechart.io
Project Type
[ Infrastructure & Tools, Integrate IoTeX, List all tokens of DePIN sectors, Education]
Proposal Description
Background and Mission
WEconomy is an all-in-one growth suite for empowering blockchain economy that includes WELaunch -an all-in-one co-building launchpad, WEChart -a dex real-time chart with trading history analysis and token description, WEDex -a dex aggregator to promote trading volume of chains.
WE are dedicated to leverage a totally new paradigm of generating projects to help chains and Dexes increase organically TVL, Liquidity and numbers of projects through breaking all barriers of building and launching a project.
Our mission aims to lower the gap between rich and poor globally and provide equal opportunity to everyone. The primary methodology is to capitalize labor and rebuild traditional organization form to generate a totally new startup economy paradigm that will break all barriers of launching, listing and promoting a project leveraging blockchain technology without fees and code to start business leveraging which will generate more new opportunities of working, help labor get more income that includes capital income and labor income.
The mission of IoTeX is to connect the real world to Web3 which is to power billions of devices and decentralized applications across the physical and digital world.
DePIN is short for Decentralized Physical Infrastructure Network which will be the primary methodology to make the mission of IoTeX come true. Do you know we have been surrounded by smart devices in our current life, meanwhile they are influencing our life deeply at the current time. Experts estimate that by 2030 people, businesses and organizations worldwide will own about 125 billion devices, generating a $12.6 trillion machine economy. Machines could replace over 30% of the human workforce in eight years and data, powered by AI, could generate $13 trillion in global economic value by the start of the next decade.
The wealth that is hidden within these smart devices is well known, however, most developers of Web2 and Web3 are unable to mint it because of the barriers associated with coding these IoT devices. As software engineers, most developers do not know how to operate or code this hardware, so they cannot mint it. But the problem was fixed until the Dev kit was launched by the IoTeX team and the Seeed Studio team. So, in fact, the hardest barriers have been removed by the two teams, so the only thing we need to do is to call up builders to build on DePIN realm for minting the huge wealth. It will be much more attractive for builders than mint coins directly from blockchain because smart physical devices have much better use cases and bigger devices base.
But for fostering and growing the DePIN ecosystem, there are three primary indicators to evaluate the progress of DePIN, a number of projects, liquidity deep, and TVL on IoTeX. To promote DePIN, we have to reach out to the three goals.
Thus, the purpose of this proposal is to illustrate what we can do to grow DePIN using WEconomy growth suite, what our methodology is, and what our roadmap is.
Methonolgy
The methonolgy will be splited into 4 steps for install the suite to grow DePIN.
Install DePIN sector on WEChart to promote.
1.Create a DePIN category on the best visibility position of WEChart to promote.
The best intuitive way to promote DePIN is that makes all investors realize the growth potential of tokens of DePIN sector that will bring huge big ROI for them, it is the best-driven point, so we plan to create a new DePIN sector on the best visibility position of WEChart for make all investors and trades watch, research and trading more conveniently.

2.List all tokens of DePIN sectors on DePIN category of WEChart
At first, we are going to collect most of the tokens of DePIN sector and which Dex their liquidity deployed, then we will deploy our program of monitoring to track and fetch token price change into our real-time data processing engine, at last, we will push the change of price change and trade history to the portal of WEChart to show them on WEChart by the real-time way that drives investors to know them, it is the best marketing strategy for promoting the whole DePIN topic.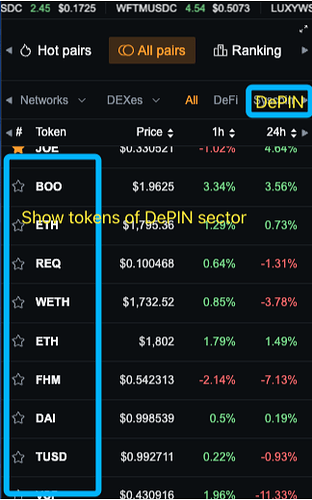 3.Guide all requirements of DePIN sector trade to DEXes of IoTex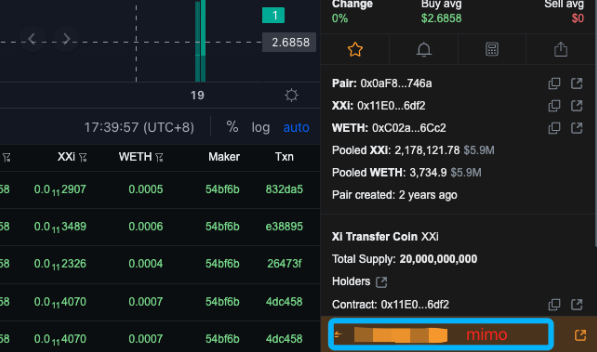 4.Push tokens price trends of DePIN sector everyday
For lifting the influence of DePIN on Twitter, all token price trends of DePIN change will be rolled into a push program that will be pushed into the tweets of the DePIN sector every day.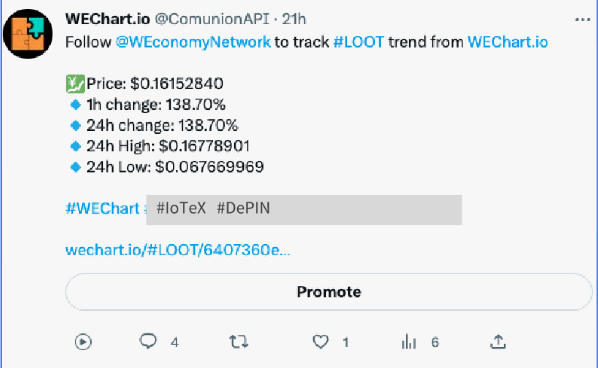 Through above 4 steps, we will solve the problem of cognition and education of DePIN, meanwhile letting investors and trades can invest and trade the tokens of DePIN topic more easily.
Milestones
Milestones 1:
Duration: 2 weeks
Deliverables: DePIN sector on WEChart
Install WEChart suite of DePIN.
1.Add DePIN sector
2.Collect and add tokens of DePIN to DePIN sector
3.Integrate and deploy IoTeX into WEChart
4.Deploy the data process engine of monitoring and fetching DePin tokens from DEXes of IoTex
5.Show real-time token price change and token information to users
6.Guide all requirements of trading of DePIN sector to DEXes of IoTeX
7.Track portfolio of all tokens of IoTeX mainnet
Funds request: 1500 USD
Total funds requested
[ Total Funding amount requested in 1500 USD ]
About your Team
Pistis: Founder, A serial entrepreneur and angel investor with over 8 years, formerly was a Linux developer, big data engineer, product manager, and early-stage investor of TMT in past experience, he is in charge of project design, team manager, and BD in the WEconomy team.
Twitter: https://twitter.com/weconomypistis
Telegram: Telegram: Contact @WE_pistis
Jami Mu: CTO, 30+ years experience in software development realm with excellent skills in big data process, Golang and smart contract. He led 12306 of the development of the biggest high concurrency service of Asia.
Metrics
Users can see, track and trade all tokens of DePIN sector on wechart.io after initialize WEconomy growth suite of DePIN in IoTeX mainnet successfully in the next 2 weeks.
Links
WEconomy suite
Website: https://weconomy.network
WELaunch: https://welaunch.work
WEChart: https://wechart.io
WEDex: https://wedex.finance
Social media
Twitter: https://twitter.com/WEconomyNetwork
Discord: Discord
Telegram: Telegram: Contact @WEconomyNetwork
=== When you are ready, please edit this post and fill out mileston reports below below. ===
Milestone Report: #1


Invoice form has been filled out correctly for this milestone.
IoTex and DePIN category have been installed on wechart.io:
1.Proof:
IoTeX category
DePIN category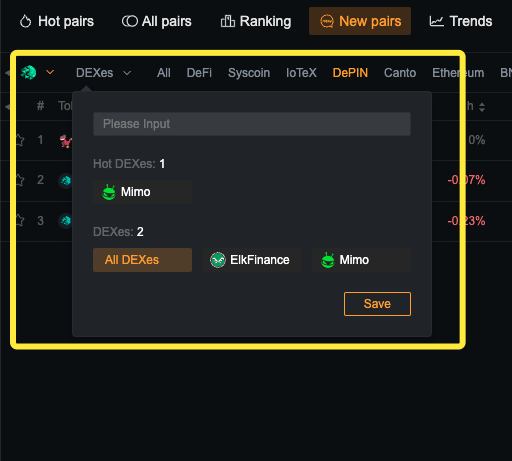 2.Proof: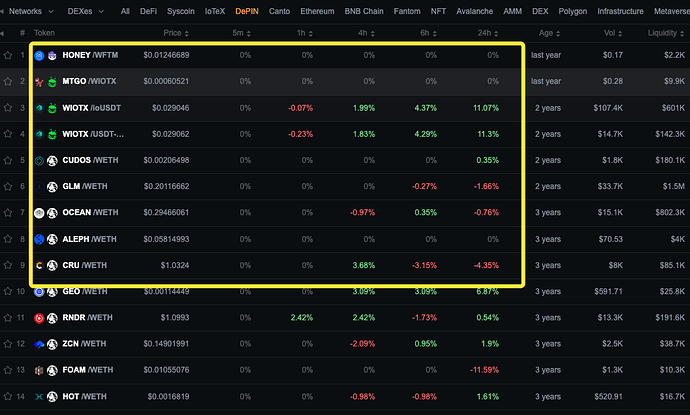 3.Proof: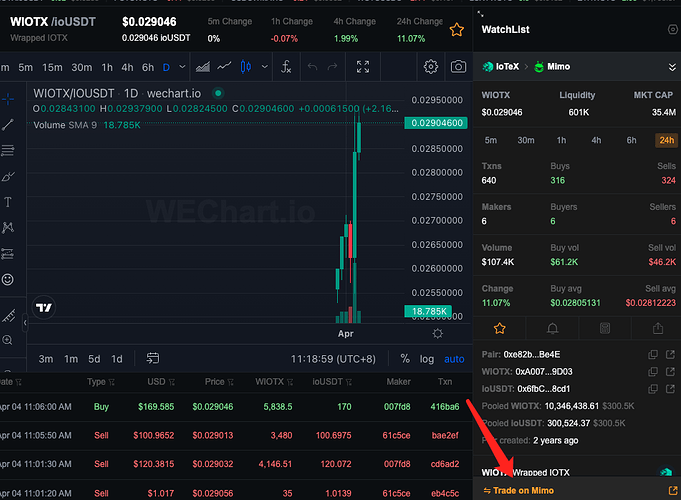 ---
If you are interested in DePIN you can learn more about the latest developments in the sector and compare projects by visiting DePINscan. DePINscan powered by W3bstream and IoTeX is designed to empower intelligent investors in the DePIN sector.