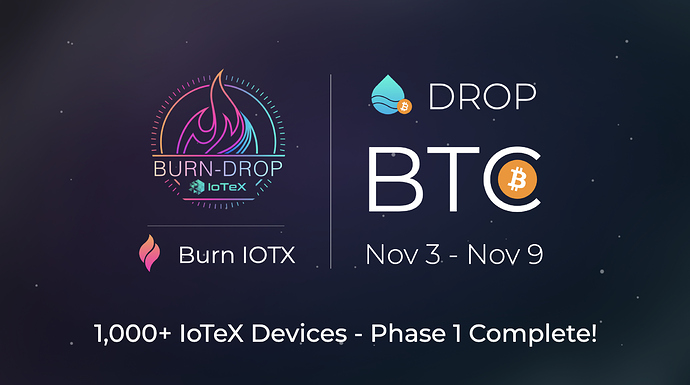 The Wait Is Over!
After a successful warm-up with IGNITE, we are now ready for the main event – Burn-Drop is officially starting on November 3. We have now exceeded >1,000 Ucams sold on Amazon and other retailers, which means Burn-Drop is ready for liftoff!
Thousands of users and ~1.2 billion IOTX are now participating in Burn-Drop. Set your buckets to auto-stake ≥ 91 days to be eligible – you can learn how to stake IOTX here.
What is Burn-Drop?
Burn-Drop is a tokenomics design where IOTX is burned/dropped for every new device registered to the IoTeX Network, such as Ucam and Pebble. Burn-Drop directly rewards long-term stakers, reduces the total supply of IOTX over time, and provides funding + network incentives to onboard new "Powered by IoTeX" devices.
By the Numbers:
1 Billion IOTX (10% of total supply) will be burned/dropped as we onboard 1 million devices
900M IOTX will be burned and 100M IOTX will be dropped to long-term stakers
10 Burn-Drop phases, with earlier phases having a higher Burn & Drop rate
Burn-Drop rewards long-term stakers every time a new IoTeX device is registered with IOTX dividends that are "dropped" directly to your staking buckets – earn up to 15% APY in Phase 1 of Burn-Drop (Nov 3-23)!
Dropping IOTX to Stakers
In return for providing security for IoTeX, long-term stakers earn Burn-Drop rewards, which are in addition to rewards received from staking. Secure your share of 100 Million IOTX by auto-staking ≥ 91 days!
Burn-Drop is powered by smart contracts. Every "Powered by IoTeX" device has a decentralized identity (DID) registered to the IoTeX blockchain – each time a new device is registered, there will be a verifiable record and the Burn-Drop smart contract will burn + drop IOTX based on the following schedule:

Phase Completion Bonuses
After the completion of each phase, we will introduce a special bonus available only to Burn-Drop eligible stakers. Whether that is extra token rewards, raffles for awesome prizes, or special network perks, we can't wait to reward our Burn-Drop devotees!
---
Burn-Drop Phase 1 Complete – 1,000+ IoTeX Devices!
We are excited to announce there are 1,000+ devices registered to the IoTeX Network. Thanks to UCam pre-orders and the past month's Ucam sales on Amazon + other retailers, we have completed Burn-Drop Phase 1. With sales on Amazon picking up, we are now looking forward to Phase 2!
To kick off Burn-Drop, we will be holding a special ioWBTC drop for the first week (Nov 3-9), after which IOTX will start to be dropped directly to Burn-Drop eligible buckets. The first Burn-Drop event will be processed November 3 at 10pm PT.
Throughout November 3-23, we will process the 90M IOTX Burn & 10M IOTX Drop that comprises Phase 1 distributed evenly across the 21 days. After November 23, newly registered devices will automatically trigger a new Burn-Drop event for real-time responsiveness.
---
Questions?
For more information on Burn-Drop, see our detailed Medium blog. To learn how to optimize your IOTX returns, see this thread by IoTeXLab. For other questions, contact us on Telegram.