The altcoin market just offers thousands of investment options. However, how can we evaluate if a specific crypto project is in fact undervalued?
We can invest in several projects - from small startups to large institutions. There are so many alternatives to put our money in that it becomes impossible to study every single case to fully understand what is either overvalued or undervalued. However, there is an interesting tool we can use in our own benefit to help us on this difficult task.
Flipside Crypto: An introduction to the platform
Flipside Crypto enables crypto projects to grow their businesses by monitoring project health, tracking customer behaviors, and providing insights into how activities impact stakeholders and price. Their complete toolkit gives insights on some aspects that can tell us if a project really might see an increase in its current value due to good fundamentals.
Having partnerships with over 75 organizations like CoinMarketCap, Messari, MarketWatch and TheStreet and counting on investments from institutions like CoinBase Ventures, True Ventures, Founder Collective and Digital Currency Group, Flipside Crypto stands out as a reliable research source especially because of their main index: FCAS.
FCAS: The index behind a precise evaluation
FCAS ( Fundamental Crypto Asset Score ) is a comparative metric used to assess the fundamental health of crypto projects. The score is derived from the interactivity between primary project life-cycle factors: User Activity, Developer Behavior, and Market Maturity. Each asset is given a score, 0-1000, and an associated rank.
FCAS ratings are on a 0-1000 point scale with a corresponding letter grade. Break points are based on standard deviations in the underlying component distributions.
The number rating is derived from a combination of classical statistics with Bayesian approaches to provide a simple score for each metric. The ratings are intended solely to be statements of opinion as to the relative health of the applicable crypto projects based on available data.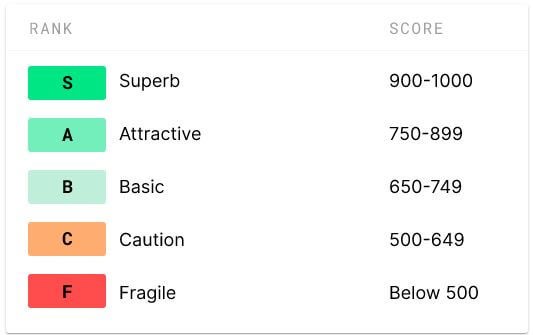 FCAS Rating
An additional tool which is able to fine-tune our analysis
Besides FCAS, both enthusiasts and investors can rely on another criteria called CDR (or Crypto Disparity Ratio). This index establishes a relation between FCAS ranking, which was explained above, with total current marketcap of each project.
Thus, a result above 1 reflects an undervalued project while a result below 1 indicates a project which is theoretically overvalued. Of course, the more far from 1 is the final score , more significant would be the evaluation for the project – positively or negatively.
This is clear in the tweet below where IoTeX – TOP5 project between the undervalued ones, according to Flipside Crypto – highlights the research:
IoTeX is one of the most undervalued projects in the industry based on @flipsidecrypto 2020 statistics 📈

Now is the perfect time to get on board with IoTeX — what are you most looking forward to in 2020? Let us know in the comments below 👇🏽 pic.twitter.com/D4dMrP8OJz

— IoTeX (@iotex_io) April 10, 2020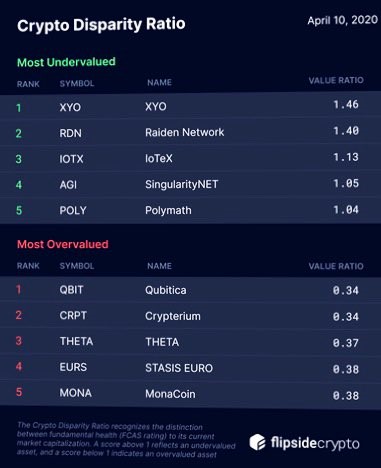 Conclusion
The platform makes available a large diversity of data to all of its users. By the way, it is pretty simple to get access to such info. A simple login process is enough to take a look on all of these important numbers.
Cryptocurrencies are a well-known risky investment so we welcome any helpful tools capable of helping us to study them a little deeper.