Abstract
This IIP proposes to natively support the representation of staking buckets as Non-fungible Tokens (NFT) on the IoTeX blockchain, which opens opportunities for applications such as Liquid Staking Derivatives (LSD) and potentially increases the staking ratio and therefore enhances the degrees of security and decentralization of the IoTeX blockchain.
Motivation
The Proof of Stake (PoS) consensus mechanism secures the vast majority of modern blockchains, IoTeX L1 included, as it disincentivizes an attack on the network by requiring control of the majority of coins to control the blockchain. In contrast to the traditional Proof of Work (PoW) consensus mechanism, PoS consensus dramatically reduces the energy required to run a secure and decentralized blockchain. Simply put, the more coins that are staked to govern the protocol, the more secure the blockchain is. Therefore, increasing the total amount of $IOTX staked (i.e., the "staking ratio") has always been the goal for IoTeX.
An interesting primitive called "Liquid Staking" has been introduced by Lido in 2020 which means a liquid staking provider takes coin deposits, stakes those coins, and gives the depositor a receipt that is redeemable for the staked coins. The receipt is a representation of those staked coins that can be traded or used as collateral elsewhere, such as DeFi protocols to be lent, borrowed, or traded. For this reason, liquid staking coins are sometimes referred to as liquid staking derivatives (LSD). Major L1s such as Ethereum, Polygon, Solana, Polkadot, and so on all adopted liquid staking and achieved tremendous success in improving the number of staked coins (and thus the underlying security of the blockchain). However, staking on IoTeX L1 is implemented in a native way, which does not support interaction from smart contracts. Hence, popular liquid staking solutions can not be applied directly.
To better support liquid staking and other innovations at the smart contracts or dApp level, this IIP suggests adding support natively to represent staking buckets as Non-fungible Tokens on the IoTeX blockchain. Therefore, liquid staking solutions, which rely on smart contracts, could manage their stakes in system smart contracts. With this feature implemented and deployed on testnet and mainnet, builders can easily launch their respective liquid staking dApps such as Lido and RocketPool on IoTeX L1.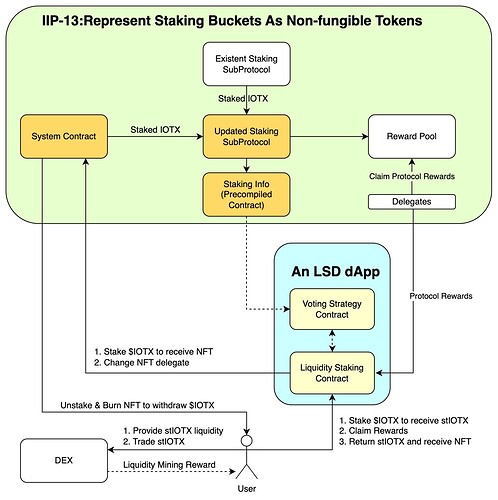 ---
More details could be found here: iip-13 Represent Staking Buckets As Non-fungible Tokens by CoderZhi · Pull Request #18 · iotexproject/iips · GitHub
---
If you are interested in DePIN you can learn more about the latest developments in the sector and compare projects by visiting DePINscan. DePINscan powered by W3bstream and IoTeX is designed to empower intelligent investors in the DePIN sector.