Hey IoTeXer! As part of our initiatives to open up more and more to our community, we'll be sharing our Newsletter here to have open debates on the latest in the IoTeX ecosystem. You can find it here and subscribe in our website.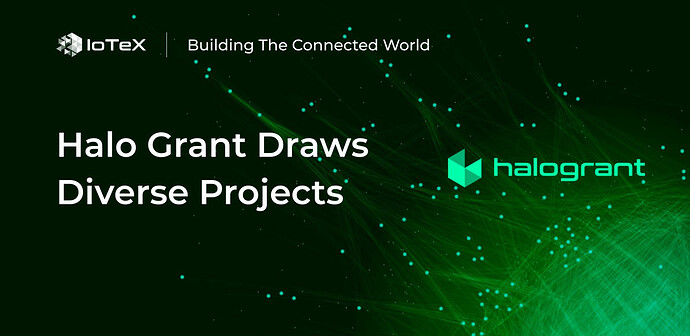 Hi IoTeX Community,
As always, we're building new tools, forging new partnerships, engaging with the world at events and getting the word out about MachineFi. It's working. We're approaching Q4 of 2022 in good shape with some of our biggest announcements yet to come. We've even minted a special NFT. Keep scrolling for that one.
As a reminder, the IoTeX Halo Program offers grants for software and hardware development, research, and community efforts to fuel the development of MachineFi dApps. Halo Grants are open for any project at any stage to apply to promote the growth and use of IoTeX technology.
August saw six projects apply for grants. They spanned areas as diverse as crypto wallets, pay-as-you-go access to clean energy, a secure stablecoin, a grant management tool, a user-friendly platform for thousands of crypto assets across supported blockchains, and a live-to-earn health platform. If this last one reminds you of Health Blocks, you'll be interested to know the two projects already have a partnership in the works. Keep an eye out for that one and read about each of the grant applicants here.
Proposal for Mainnet v1.9 Release: EVM London upgrade & Nonce update
A new proposal is live on the Forum!
This proposal introduces upgrades to the iotex-core blockchain protocol ahead of the Mainnet v1.9 code release.
Join the IoTeX governance process by sharing your thoughts or feedback.
FIO x ioPay Partnership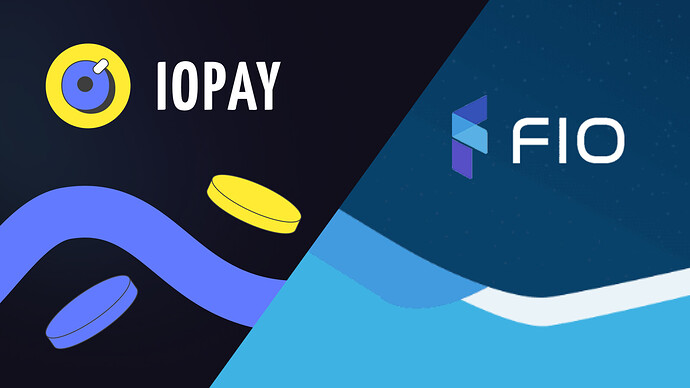 As part of our push to bring Web3 to the mainstream, we've partnered with FIO to simplify sending and receiving payments with crypto. With FIO you can replace long character strings with human-readable addresses. Simple is good. We like simple.

Read more.
ICYMI - Town Hall Recap
If you haven't had a chance to watch last month's Town Hall, you can catch it here. There's so much great stuff covered that you'll want to see it to be up to speed on all things IoTeX. Watch here

Industry IoT Consortium Launches Marine Management Test Drive
IoTeX and Ahoy will take part in an IIC hosted Test Drive, i.e. a Proof-of-Concept, short term pilot to test Industrial IoT technologies in real-world situations.
"The Industry IoT Consortium® (IIC®) announced the Marine Management Test Drive to build a next-generation, peer-to-peer network designed for the marine industry. The Marine Management Test Drive showcases the next generation of boating ecosystems, including boat-to-dock payment, maintenance scheduling, and asset management." Read more
Test Drives stimulate IoT adoption across the industry through accelerated implementation. The IIC's neutral collaboration platform fosters partnering to address leading-edge IoT use cases in three to six month projects based upon technology end users' real problems.
IoTeX launches developers' portal to attract, support MachineFi dApp builders
On the cusp of releasing W3bstream, the world's most technologically-advanced data protocol, IoTeX is eager for developers to know of the opportunities offered by building on the IoTeX blockchain. IoTeX offers Quick Starts, Tutorials, Guides, grants, and a community of energized developers working to build a new economy where people have control of their data and the value that data creates. Read about the new portal and how you can join this vibrant community.
The Automated New Deal: Unlocking Billions By Giving Data Context via the blockchain
By Mahesh Ramakrishnan, Co-founder of Escape Velocity Ventures
"Giving people the ability to monetize their own data could drive the most significant social transformation since the New Deal, as crypto-economic platforms allow people to unlock hundreds of billions of dollars by enriching their own data with context."
This last part should give you pause for thought. Ramakrishnan has put his finger on something about Web3 data that few people are talking about. Read what he has to say.
EV3 is bullish IoTeX will return data control, benefits to people
Queenie Wu, Partner at IOSG Ventures, is all in when it comes to believing in the future of IoT and blockchain - MachineFi. Read why the investment firm invested in MachineFi Lab's recent $10 million Seed Round.
---
If you are interested in DePIN you can learn more about the latest developments in the sector and compare projects by visiting DePINscan. DePINscan powered by W3bstream and IoTeX is designed to empower intelligent investors in the DePIN sector.