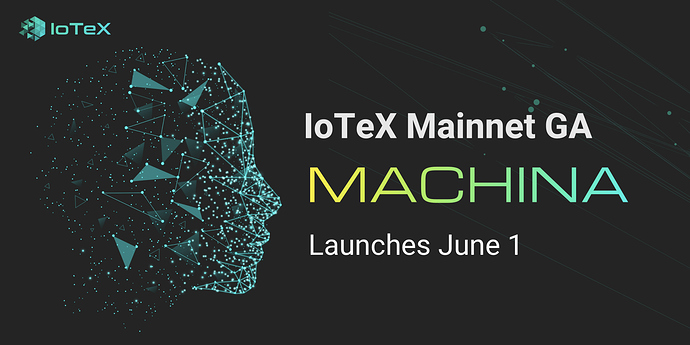 IoTeX Mainnet GA ("Machina") Launches June 1, 2020!
Hey IoTeX Community – we have a special campaign to help spread the word about IoTeX Mainnet GA and reward our loyal supporters with great prizes!
---
Spread the Word & Win IOTX!
Throughout the final countdown to Machina (May 25 - June 1), IoTeX community members can earn IOTX and help spread the word about IoTeX!
Create Your Own Post – Most Retweets + Likes Wins!
The rules are simple – create a new Twitter post and get the most retweets + likes! The top 5 posts will receive 20,000 IOTX each and 20 other winners will receive 5,000 IOTX

All posts must include the following required content:
The rest is up to you! Create your own share-able GIFs, memes, and graphics. Or include inspiring messages and let the IoTeX Mainnet GA "Machina" website do the talking. Let's spread the word!
---
Questions?
For any questions, please contact an Admin on Telegram!
Follow the official countdown and get up to speed on IoTeX Machina today: