What is Hermes?
Hermes is a trusted, transparent, and automated rewards management system developed by the IoTeX Foundation (core-dev). Hermes uses smart contracts to automate rewards distribution for Delegates, and provides a transparent history of all reward payments for voters. Best of all, Hermes is 100% free to use!
Over the past few months, Hermes has been greatly enhanced and is better than ever. We are excited to launch the Hermes 2.0 service, which is now open source on Github!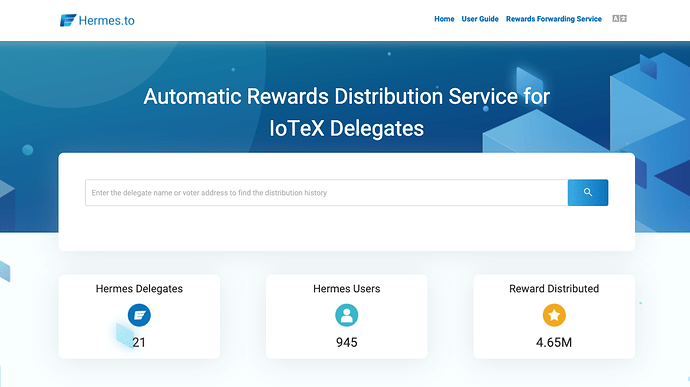 ---
How Can I Use Hermes?
For Voters
Never worry again if your Delegate paid the right amount of rewards again! By voting for a Hermes Delegate, all rewards payments are open and trackable.
Personal rewards history: enter your IoTeX address to see your full history of reward distributions from Hermes Delegates; you can also enter a Delegate's name to see a paginated list of all of their distributions.

Rewards forwarding service: a convenient way to forward your rewards to a different IoTeX address than the one you used to stake/vote.
For Delegates
With Hermes, Delegates can automatically claim, calculate, and distribute rewards to all of their voters on a daily basis. Hermes is free for all IoTeX Delegates — register today:
Set your reward percentages here

Set your reward address to 'io12mgttmfa2ffn9uqvn0yn37f4nz43d248l2ga85' here

Wait 24 hours — rewards will now be auto-distributed daily based on your selected reward percentages!
---
Other feature requests?
Hermes was built for the IoTeX community. Have ideas for how we can make Hermes better? We want to hear from you! Let us know on Telegram or email [email protected]!
For more information, including Hermes technical details, see our Medium blog.