Throughout 2020, IoTeX will complete the official token swap for IOTX-E (ERC20) to Native IOTX. This thread explains the overall process and the various options you have to swap IOTX-E to IOTX.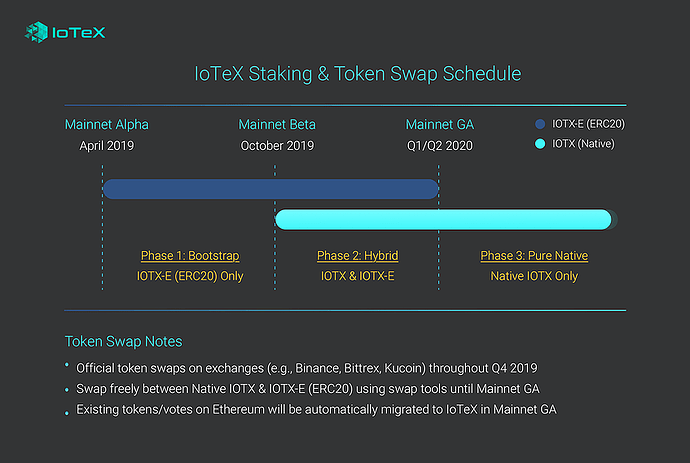 IoTeX Foundation Swap Tools
The IoTeX Foundation has built tools for anyone to freely swap between IOTX-E and IOTX.

Note: every Ethereum Address ("0x…") has a corresponding IoTeX Address ("io…") which shares the same private key ( see here ). Make sure you have the private key of the address you swap to!

Exchange Swaps
Exchanges are now performing official token swaps to Native IOTX. Swap schedules will differ by exchange – any IOTX-E held in exchange wallets on the announced dates will automatically be converted to Native IOTX.
Binance and Gate are also supporting ongoing token swaps – anyone can deposit IOTX-E (ERC20) to Binance or Gate, who will automatically swap to Native IOTX. For more information, please see the official announcements from Binance & Gate.
Existing IOTX-E Tokens Staked on Ethereum
After Mainnet GA, all existing staked IOTX-E on Ethereum will be automatically converted to IoTeX Mainnet. This process involves taking a snapshot of the voting smart contract on Ethereum and installing the snapshot to IoTeX. You do NOT need to unstake/restake your tokens.
---
Tracking the IOTX-E Burning Process
All IOTX-E will eventually be burned by the IoTeX Foundation. We have set up a "trash bin" address where all IOTX-E will be collected and subsequently burned. You can track it yourself here.
Exchanges have been instructed to send all swapped IOTX-E tokens to the "trash bin"
IOTX-E from the Foundation, Ecosystem, Community Rewards, and Mining Rewards buckets will be transferred to the "trash bin" in Q1 2020
IoTeX Foundation will burn 10% of total supply at a time by sending the tokens to a "zero address"
You may track the progress of IOTX-E burns here:
We will notify the community and post the transaction ID here each time a new burn occurs.
---
For more details, please see our blogs on this topic: