RFP Proposal: otbTrade DEX on IoTex
RFP Category: dev
Name of Project: otbTrade DEX on IoTex
Link to RFP: Please link to the RFP that you are submitting a proposal for.
Proposer: otbtrade
Do you agree to open source all work you do on behalf of this RFP and dual-license under MIT and APACHE2 licenses?: We agree to open source the smartcontract
Project Description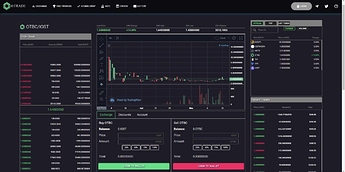 otbTRADE is a decentralised exchange developed by OutsideTheBox Developers, 50% of our revenue from trading fees is given back to the community. otbTRADE is currently live on the IOST blockchain so you can take a pop over check us out and have a play. The roadmap for otbTRADE is constantly being updated as we add new features and listen to what the community want and expect from us.
Within the exchange we have several different features:
Official listings- which are tokens the team have been requested to List by the tokens developers.
P2P listings - which are tokens that the community themselves list via the List Token feature.
List Token - this allows users to list any token they wish
Discounts- we have our platform token called otbc, one of the use cases of the token allows users to swap the token for 10 vouchers for 25% discount on trading fees and for stamning on out platform, otbc is rewarded to voters on our node.
Atomic swap- atomic swap service with over 300 pairs. We have weekly lotteries where we give away 50% of our revenue from trading fees back to the community. Under events we have our treasurehunt which is one of the many community focussed events we do regularly. We are constantly working on updates and improvements to otbTRADE, in the roadmap just now being developed for release is, staking of our platform token otbc with rewards being issued from the blockrewards from our node, fiat on ramp and fiat off ramp with Apple integration. Further down the road we have major pairs like Eth/usdt in the roadmap.
We plan on becoming a delegate within iotex and giving back to the community in the same way we do for the IOST community.
If anyone has any questions don't hesitate to reach out to us here or via our telegram chat.
Deliverables
Iotex integration into the dex plus fiat to iotex on-ramp. We will have a fully built DEX that allows trading pairs that are built on IOTX. This includes both UI and smart contract.
Development Roadmap
Phase one (July 1st - September 1st) dex integration - 20000USD
Phase two (September 1st - October 1st) fiat to iotex on-ramp - 10000USD
Total Budget Requested
30000 USD total
Phase 1 - 20000 USD
Phase 2 - 10000 USD
Maintenance and Upgrade Plans
We plan to keep this DEX up to date. We will continue to list and delist official tokens to meet the demands of the community. We have more integrations that we plan to build into our DEX, but that will be announced at a later date/time.
Team
Contact Info
Team Members
Team Member LinkedIn Profiles
Team Website
Relevant Experience
We currently have otbTRADE live so we would love for people to go and check us out and if you have any questions just contact us here or via telegram http s://t.me/otbtrade