Introduction
This short document is produced so as to share the thinking behind the new Creative Work with our Community. This is the start of a new initiative… where the marketing team will be keeping the community up to date with all new activities occurring, and giving them the meaning behind everything that is being produced.
What was this work produced for?
On March 3rd, IOTEX will host our own event at ETH Denver, showcasing the latest technology (w3bstream) and most prominent MachineFi, DePIN, and DeWi projects propelling our exciting and burgeoning category forwards and into the real world.
What were the project Objectives?
We had a working idea around the concept of Real World Meets Web3… and after talking about it for the last few years, this coming together of the two parts (Real World and Web3) was finally happening in 2023. But it's not just about these two elements joining together, it's so much more than that, we know that Web3 (with all the new use cases) will bring a new positive energy to the real world.
So we wanted (first) a name for the event, which would encapsulate this thinking, while also having a word (within the name) which made it feel like it was an event.
We also wanted a tagline which delivered immediacy, in that we're saying this category is alive at this moment in 2023.
And we wanted design icons which imbued this new energy web3 would be bringing to the real world.
What was the Design Approach to this activity?
This is the first work of a new design philosophy we're developing around the idea Simplicity and vivid beauty… It has a very clean, stripped back and professional look & feel to it, it's uncluttered… giving every element the chance to express itself and most importantly communicate with each other. So we have this single color dominant font layout acting as the perfect showcase canvas for these vivid energetic icons to shine out.
Meaning Behind the Name: R3AL WORLD…
We really like this name, as it functions on many levels for us:
It sums up the idea of web3 meets the real world, with the 3 (from web3) perfectly integrating into Real.
The short abbreviated nature of this name communicates nicely to a developer audience.
The word world has a nice dual meaning, in that the word 'world' is also used when describing an event
The 'Real World' is a phrase that our category is obsessed with, yet no one has owned the phrase yet, and more importantly no one has written it like this before, no one has used it like this… This is a name we can own and use a lot in the future.
Meaning Behind the Tagline: Right Here. Right Now.
This is a really simple line, but it communicates immediacy perfectly, telling the world this category is and happening Right Here. Right Now… and IOTEX are at the forefront of it pushing it forward.
Meaning Behind Icon 1: Pulse (the single circular icon)
Symbolizes the energy source that is web3, (or more precisely w3bstream) bringing new life and new energy to the real world, integrating into and improving everyday life.
Meaning Behind Icon 2: Union (the two circular icons merging)
Symbolizes the two energy sources of web3 and the everyday real world fusing, merging to create a whole new energy, a whole new way of thinking not just about web3 but how people will benefit when web3 fuses in union with everyday tasks and life.
How & Where will we use these designs?
At EthDenver, these new designs will be utilized on:
The event website: R3AL WORLD - Right here. Right Now
Posters
Digital Screens
Flyers
Merch
We will have a full and active Social media campaign
As we well as all Video footage will use this design look and feel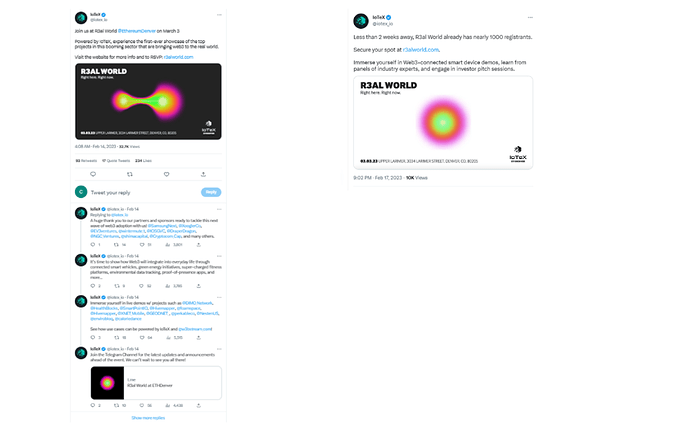 We will have full coverage of everything occurring at R3AL WORLD, so look out for a lot more build up information, we will have a sneak peak of the event the day before, and we will have a full set of coverage coming from the event on the day, as well as lots of interviews and chats coming after.
What to expect on the day?
The day kicks off with a welcome and registration, followed by a Developer Workshop with the IoTeX team and various partner projects. We'll also have startup investor pitch sessions, panels with industry leaders and investors, and happy hour, snacks and networking.
That is an excellent opportunity to hear from some of the most prominent MachineFi, DePIN, and DeWi projects. It is also an extraordinary opportunity to meet and speak with some of the most widely known Web3 investors, including Samsung NEXT, Draper Dragon, Wintermute, EV3, IOSG, Dispersion Capital, Crypto.com, Jump Crypto and Foresight Partners.
Additionally, we'll have immersive project demos, including from Hivemapper, HealthBlocks, Dimo, Foam, Dtravel, WeatherFlow, SmartPoint, Nesten, EthStorage, and many more. Check out our complete list of speakers and panelists here.
Some carefully selected media and industry experts, including Rudy Takala, Cointelegraph's Opinion Director, will moderate our exciting and revealing panels
What's Next?
Over the next quarter we will further develop this idea, we will look to integrate actual real world imagery into it (as this now feels like the natural evolution of any content talking about the Real World)
And we will see it integrated into a new Website Design as well as a new Podcast series.
If you are interested in DePIN you can learn more about the latest developments in the sector and compare projects by visiting DePINscan. DePINscan powered by W3bstream and IoTeX is designed to empower intelligent investors in the DePIN sector.