Ucam Highlights
Ucam delivers cutting-edge features, enhanced security, and full data privacy. Developed in partnership with Tenvis, a leading IoT manufacturer since 2005 and Amazon's Choice for security cameras.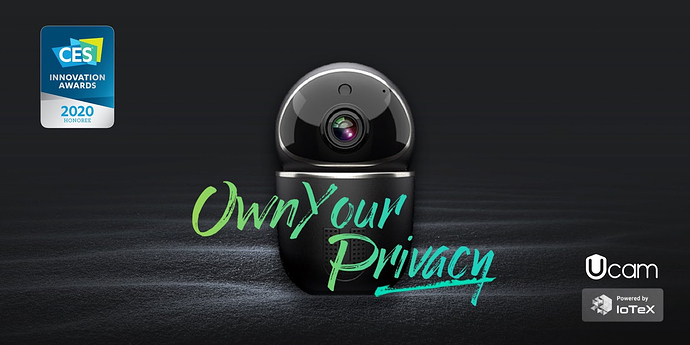 One of the most compelling use cases of Ucam is monitoring your home in real-time while you are away:
1080p HD Video: encrypted live stream from Ucam to mobile device
360° coverage: pan, tilt, and zoom controls to remotely control Ucam
Take Photo & Video: record scenes from your live stream feed (note: users can also record rolling footage of Ucam feeds)
Two-way Audio: talk directly with whoever is at home — baby, pet, nanny, etc.
Night Vision: of up to 36 feet of visibility, auto-activated in low-light situations
More features that make Ucam unique & first of its kind:
Blockchain-based identity for enhanced security: with one click, users generate a unique blockchain login that is not brute force hackable and also separate from one's Internet identity, directly addressing the root cause of most security camera hacks today such as the Ring and Nest breaches.
Decentralized issuance of encryption keys for full data privacy: seamless delivery of a one-of-a-kind encryption key to users via blockchain. Unlike other cameras, Ucam users are the only ones with the encryption key — not IoTeX, not Tenvis, and especially not hackers!
Customizable blockchain parameters: for advanced users, Ucam offers developer-friendly features, including decentralized storage of files (e.g., IPFS) and fine-grained access controls via Decentralized Identity (DID) and a smart contract.
Read more below >>>
How We Built the World's First (Truly) Private Home Security Camera
Ucam: All the Features You Want
---
Privacy & Security
As our world becomes more connected, the need for security and privacy has never been greater. While many of us are conscious of hacks to our digital data, the problem really hits home when hacks begin to affect the physical wellbeing of our families. The startling hacks of Ring and Nest, as well as the recent Wyze data breach, have shaken the consumer IoT industry to its core, as summed up by a scathing article from the Washington Post
In this blog, we share how Wyze's poor handling of user data leads to a wide-scale data leak and how the hacks of Ring and Nest cameras happened, as well as how Ucam by IoTeX utilizes blockchain technology to provide the privacy and security that addresses these exploits directly.
Ucam by IoTeX: The Privacy & Security You Need
---
Pre-orders are now open!
Please visit ucam.iotex.io and order today to receive limited-time offer perks!