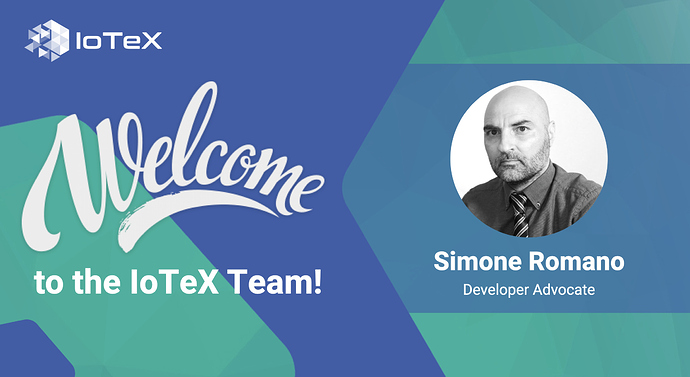 Welcome Simone to the IoTeX Team!
It is a great honor to announce that Simone Romano has joined IoTeX as a Developer Advocate! Over the past 2+ years, Simone has been an integral part of the IoTeX community. From his contributions as an Ambassador to his reliable service as a Delegate (IoTeX Lab) to his patient/selfless support to the entire IoTeX community, Simone embodies the values and vision of IoTeX. Simone is beloved by all in the IoTeX community and we are excited to formalize his role to bring IoTeX to the next level.
As a Developer Advocate, Simone will help to grow and support IoTeX's budding developer community, owning initiatives such as Halo Grants, Delegates program, developer tutorials/documentation, use case development, and technical support. Please join us in welcoming Simone to the team – we look forward to the great things you will do at IoTeX!
---
Simone's Message to the IoTeX Community
I only became aware of blockchain technology late in 2017. But I was actually blessed, as the IoTeX project was being created around the same time: indeed, I was lucky enough to join the IoTeX community very early, getting immediately impressed by the stunning knowledge and professionalism of the team, always willing to share their innovations in the IoT and Blockchain space.
Reading through IoTeX papers, following AMAs, GitHub repositories, and participating in the IoTeX community for over two years now, allowed me to quickly learn the most advanced concepts of DLTs technology, and in particular those used in IoTeX .
It is a great honor to say that I am now part of the IoTeX team as a Developer Advocate. In this role I will try to be the "bridge" between developers who want to learn the IoTeX platform, and the team itself: making the onboarding experience straightforward for developers and individuals will be my main goal!
Blockchain is a challenging space, and its IoT applications are even more: I believe IoTeX is the only viable decentralized platform for IoT builders at the moment, and I'm super excited to work side by side with the IoTeX team and with you, the community, to build the future of this project!