Hey IoTraders!

(Yeah, that's a cool name for you guys who trade IOTX tokens).
I would like to share some thoughts regarding the current price and what I expect to see in the short-term. Its clear we've been seeing IOTX in its lows and this scenario is supposed to shift soon.
Since some of you maybe aren't familiar with trading terms I'll let this discussion as simple/didactic as possible and I really hope you tell me what you think as well. Let's go:
First of all, my feelings for the market are shown in the chart below: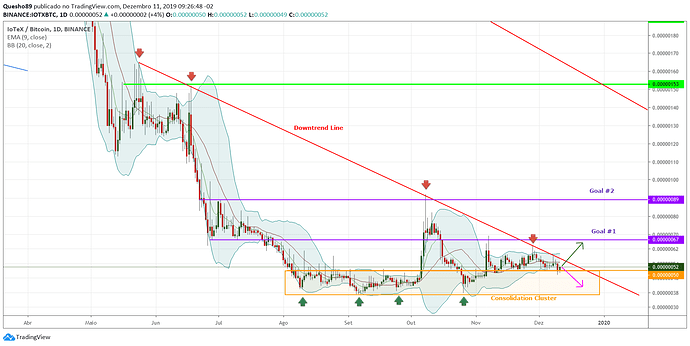 Now, there are some specific points I would like to highlight:
There's a seven-month downtrend line (in red) which provides us lower highs since May (those highs are indicated by the red arrows)
There's also a strong support zone at the 40 satoshis region (where the price has already touched 4 times as you can see in the green arrows). I would call this zone as "consolidation cluster" (orange rectangle) since the price didn't see any movement except for the spike in early October.
It looks like the upper band of this consolidation cluster is now serving as support (at the 50 satoshis) as the price keeps flattening towards the downtrend line which gives us only two alternatives: dropping a little bit into the consolidation cluster again (and even driving us below it) or breaking out the downtrend line aiming to achieve higher highs.
In case of a breakout happens I see 67 satoshis as an immediate level to touch since it was both a previous support in May and a previous resistance last month. If the buyers really enter the game, the 89-sats level could also be touched since it was also a previous resistance in both July and October.
What about you?

Do you feel we're supposed to see a shift in the current levels? Let us know your opinions!