Proposal details
Company Name
Kyte.One
Project Type
Decentralized Growth Hacking platform
Proposal Description
Project Name: KYTE.ONE (https://www.kyte.one/ )
Product Name: AirLyft (https://www.airlyft.one/)
PROBLEM STATEMENT:
In the current blockchain world, the growth activities for crypto startups are a bot-fest & this ultimately causes huge losses to startups & the community alike. Events like airdrops are raided by bots and there is an unfair distribution of prizes that ultimately diminishes all interest of participants in these giveaways. In addition to this, there is currently no option for rewarding users on dynamic activities that are being performed by the users on the organization's website, causing lesser and lesser conversions, and hence most of the users liquidate their tokens. In short, there is currently no easy option for achieving dynamic engagement via marketing methodologies and having legit participation in the blockchain world.
SOLUTION: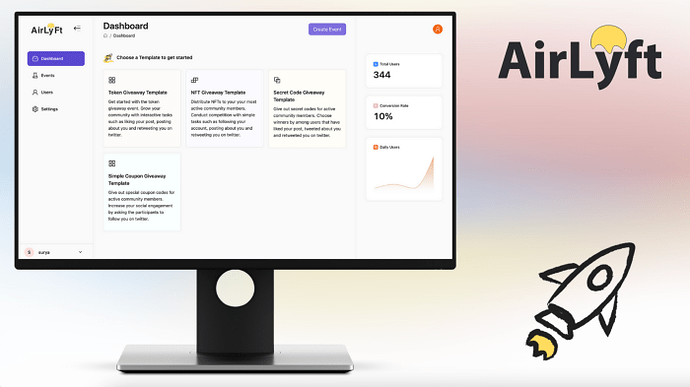 This is the problem we are trying to solve with our flagship product, AirLyft which aims to provide a one-stop solution for all the growth hacking needs of a crypto startup where each organization can create an event and let AirLyft do the maximum for them. It will be a platform where startups can
Organize and Run customized events on social channels & their own apps.
Distribute Rewards on-chain.
Boost Project instantaneously.
Organize infinite Giveaways, Quizzes, and Competitions .
Smart Contract Integration to check for users' activities on your DApp and reward accordingly.
Generate UGC through a content creation module .
Protect their giveaways from spam and bots using AirLyft's own bot checker Traffy .
Create multiple on-chain Reward Pools for guaranteed distributions.
Explore the website to search for new projects and events.
Host AMAs and streamline the process on a single page using smart data filtration .
Remove switching between platforms with our social channel integrations.
Create Email funnels, User Retention Funnel, Marketing Funnel for more conversions.
AI-based content curation module for spam and vulgar check.
Get IN-DEPTH Analytics for understanding the project better.
By the time an event is completed, our apps will help projects get dynamic engagement from your community (totally BOT FREE) & reward them in KTE or their own native tokens. Be it Airdrops, Giveaways, Quizzes, Competitions - AirLyft provides a seamless experience. We are certain that this unified growth hacking platform is going to change the face of how marketing events are currently organized in the blockchain world.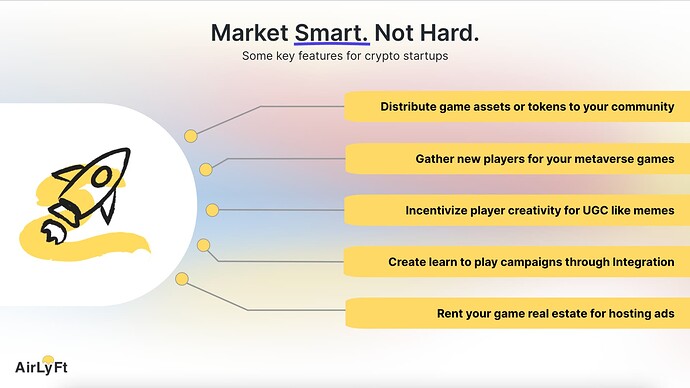 Product Viability
AirLyft will be one of a kind product that ensures " Growth on Autopilot " for organizations. We will be fully equipped with all the innovative features users will be looking out for that can make their marketing tasks much easier and with a lot more convenience. AirLyft can become a marketing leader and we are working day and night to achieve the same. Web3.0 organizations have still been using centralized marketing platforms but it doesn't cater to the need of the blockchain world. People tend to believe in projects that grow at a good pace and there comes our platform AirLyft that can help them achieve this with legit participation.
Another thing that proves the validity is that, who doesn't need marketing??? … Be it a crypto startup that is well established in an ecosystem to a startup that has now just entered the blockchain world, all platforms need to market their product and we are providing them with a unified growth hacking platform to do so. If we go ahead and search on Twitter with #airdrop, we can see there would be a minimum of 1000 tweets in a single hour . It is very evident that be it any ecosystem, the number of Defi projects, GameFi projects, Launchpads, NFT projects, marketplaces, are increasing and our platform will be the best fit for each of these projects, irrespective of the platform they are launched in. We want these organizations to earn community members in a decentralized way and we are helping them in the process using AirLyft.
Looking at a broader view, there are multiple issues with this and to be frank, there is no single solution to easily organize campaigns where startups can ask users to perform certain actions on their organization's manner applications and reward users for these actions directly on-chain in crypto or NFTs . This is where we come in and provide a platform to the community that would be a one-stop platform for all their marketing requirements.
At this point, we strongly believe there is a need for dynamic engagement and organizations need to move from centralized marketing to a more decentralized way of marketing which is the essence of blockchain. Using this, organizations will no longer have to manually type in and send the rewards . Our platform based on the winning parameters will recognize and distribute these rewards on-chain. It is also to be noted that fake projects who promise of doing a giveaway but don't distribute rewards are also taken care of by a token locking mechanism. All in all, AirLyft will be well equipped to cover all the utilities of blockchain marketing, and that ultimately fits its way into the current market.
Token Utility
The KTE Token is at the core of all products built by Kyte.
The KTE Token will be required to subscribe to AirLyft. Subscribers can choose to either hold KTE to access AirLyft's services or borrow its utility from existing holders.
There are four different stakeholders in the ecosystem with different needs.
Projects paying to user AirLyft: These are the 'subscribers' of AirLyft that would be paying a subscription fee to use the services of the platform. These kinds of users want stability and predictability in the price of their subscription. If we charge, say 100KTE per month for using AirLyft, their subscription charges will vary every month & they will not be able to predict the right amount of reserves required for a years worth of subscription.
The community , which has users performing the rewards, will not want to hold $1000 worth of KTE to win $10 worth of rewards someday. These are the users doing tasks, also asking them to hold a huge amount of KTE tokens can be a big mistake in terms of the utility & demand for the token, and might also reduce the demand for the platform. They should be allowed to use the platform for free , at least till a certain extent.
Finally, the token holders want growth and some passive rewards where they get rewarding for holding the token & providing value to the project & company, without doing active tasks every day.
The Kyte Ecosystem will have four tokens, and they create a truly circular economy without restricting the access to the platform in any way.
1. KTE Token
This is the main token for the ecosystem that can be spend, traded on DEX/CEXs.
2. Utility Token (uKTE) — ERC20
The uKTE is a transferrable, fungible token that represents the proof of hold.
uKTE is required to access the features of the platform
uKTE cannot be spent, they can only be used within the Kyte ecosystem.
There are three ways a user can get uKTE Tokens
Borrow: uKTE can be borrowed by a user from the lease pool. In this case, these tokens are expirable.
Swap: When swapped from KTE, users get an equivalent amount of uKTE that do not expire & can be swapped back.
Transfer: uKTE can be transferred from one account to another (gifted).
3. Tenancy Token (tToken) — ERC721
These tokens are minted to the initiator of the borrower payment, they hold the lease expiration time along with other details.
4. Liquidity Provider Token (lpToken) — ERC721
This token is minted to the liquidity provider (HODLers) as proof of liquidity, they can use this token to re-claim the staked KTE from the liquidity pool. While they hold this token, they also keep getting a revenue share from the borrowed uKTE.
When users pay a subscription in fiat, the following happens:
The lease pool generates a tenancy agreement represented by the tKTE (ERC721) token that has the time frame & other details of the lease.
Our engine mints uKTE from the lease pool on the behalf of the user.
A corresponding amount of KTE tokens get locked in the lease pool — these remain locked till the uKTE tokens don't expire
The user subscribes to the platform services
When the uKTE expires, the subscription ends & the uKTE token is burnt. At this moment the KTE tokens get unlocked in the lease pool.
The price is calculated based on a bonding curve.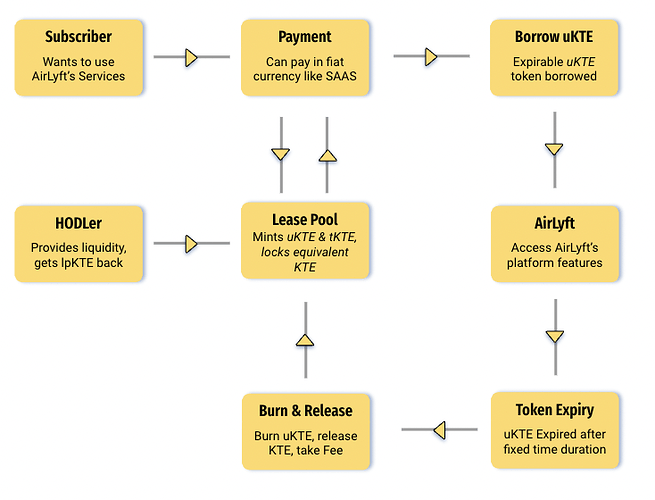 Roadmap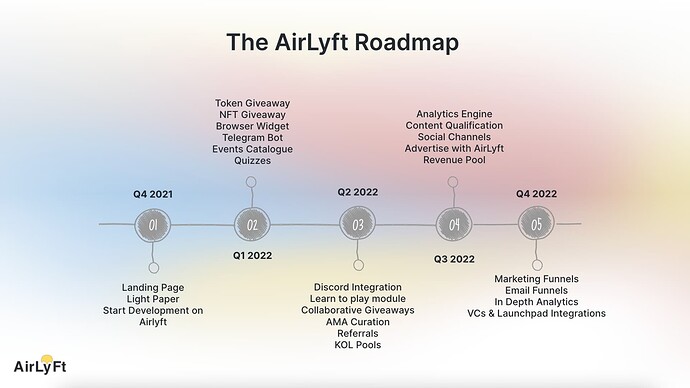 Milestones
Quarter 4 of 2021 (Completed)
Published the Landing page for AirLyft at https://www.airlyft.one/
Released our AirLyft Litepaper for the community.
Designed the architecture for AirLyft and laid out the foundational structure.
Started with our development on AirLyft Beta Application.
Quarter 1 of 2022 (Completed)
Go Live with our working prototype of AirLyft Beta Launch. (Completed)
Implementing the ERC20 Giveaway module. (Completed)
Integrate AirLyft with social channels such as Twitter and Telegram. (Completed)
Develop embeddable widgets for installing AirLyft onto your website.
Launching Kyte's official KTE tokens.
Creating decentralized tasks for providing liquidity, staking on platforms such as Pangolin, PeFi, TraderJoe or similar.
Various integrations and collaborations with other DeFi applications.
Quarter 2 of 2022
Quiz App Development
Implementing the thoroughly tested Learn & Earn module using Smart Contract Integration
Integrating other social channels with AirLyft.
Introducing Referral Module to AirLyft platform.
Create multiple dashboards and launch KOL pools.
Implement the AMA Curation module which will be ready to use.
Implementing the content creation module for our community.
Integrate the In-Depth Analytics module into AirLyft.
Quarter 3 of 2022
Implementing AI-Based Spam detection security for the available modules.
Implementing User Retention Funnels.
Implementing various Marketing Funnels.
Implementing the Email Funnels.
Implement in-depth analytics for these funnels.
Implementing the modules for VCs & Launchpads.
Total funds requested
13000 USD
Please checkmark the following if you agree
Although these options are not mandatory, please consider committing to them for the greater benefit of the IoTeX ecosystem.
We commit to open source the project: [ YES ]

We commit to stake [ PERCENTAGE ] IOTX on the IoTeX Blockchain: [ NO ]

We commit to donate [ PERCENTAGE ] of [ OUR TOKEN ] to the IoTeX Foundation: [ N/A ]
About your Team
Surya Singh is the Co-Founder of Kyte.One and also holds the position of CTO at Kyte.One. With a master's in data science from an elite institution, he has over 10+ years of experience in the development world, designing architecture, and is very technically sound. He was also the Founder of canUmeet which is a revenue-generating appointment scheduling platform.
Rachit Magon is also the Co-Founder at Kyte.One and has over 8 years of development experience where he has worked with scaling different products. An awesome full stack developer and was the founder of Smooper prior to starting Kyte.One!
Chandra Bhushan Singh is the Co-Founder at Kyte.One and heads the product, operations, and investor relations end at Kyte.One. Has experience of 7 years in the corporate industry and moved from development to product management. He was also the co-founder of canUmeet which is a revenue-generating appointment scheduling platform.
Muiz Nadeem is a very calm and composed engineer who loves breaking down complex problems into simpler sub-problems. He is another full stack developer at Kyte.One and is fully involved in the development of backend and Kyte smart contracts as well.
Neha Alreja is another full stack developer who along with the development has an extensive knowledge of partnerships and marketing. She is another core member at Kyte.One and is handling the development and marketing end of Kyte.One! She was the founder of an ed-tech startup called TheSparkClub.
Aslam Shah is the UI Expert at Kyte.One and has more than ten years of experience in application and full-stack development. He is an avid open source contributor and has also published a book on bulma.io! He was also founder of codedmails where anyone can come in and download responsive website templates.
Sultan Omar Salim is our Head of Marketing at Kyte.One and holds over 10 years of experience in the marketing field. He holds a master in marketing loves making networks across the place. Having worked at RedBull and Simba Craft Beer, learning all aspects of working with a global brand and laying the foundation blueprint of a startup brand from scratch, he has really enjoyed my journey in this industry and now looking forward to replicating the same enthusiasm at Kyte.
Metrics
KPIs for Success
Number of Project Collaborations
Number of hosted events
Number of event participations
Total Rewards Distributed
We did a couple of events last week which is from Onston Network and Avax Husky and a Puzzle Mania Contest where with an entirely bot-free environment, Onston received an overwhelming response of 6700 participants for their metaverse alliance giveaways and Avax Husky received more than 250 participations for their merchandise giveaway. The feedback has been excellent and has more events upcoming this week. We have a few more scheduled now for the coming week.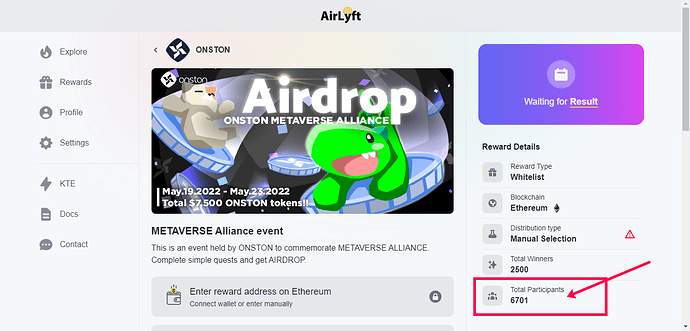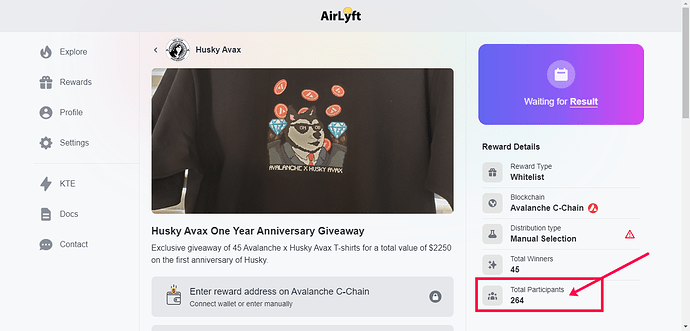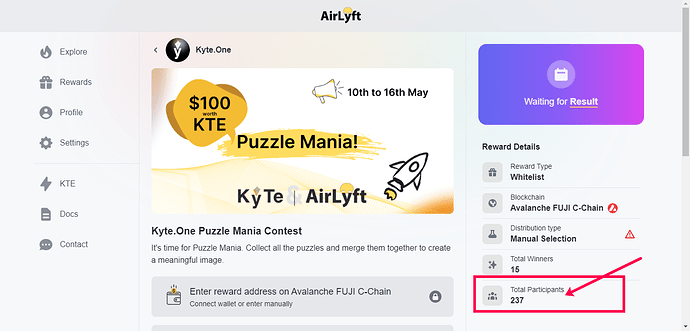 Product Prototype
Login Page:
DASHBOARD:
Event Templates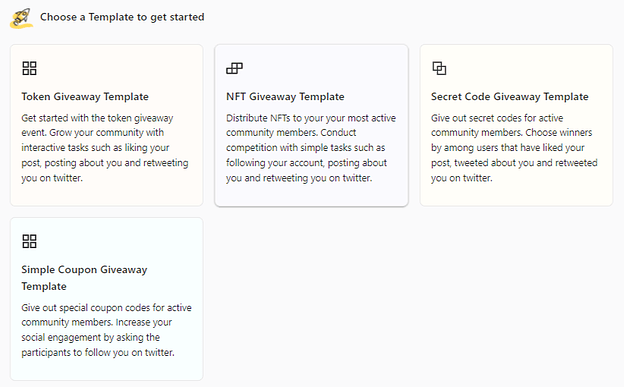 CREATE EVENT: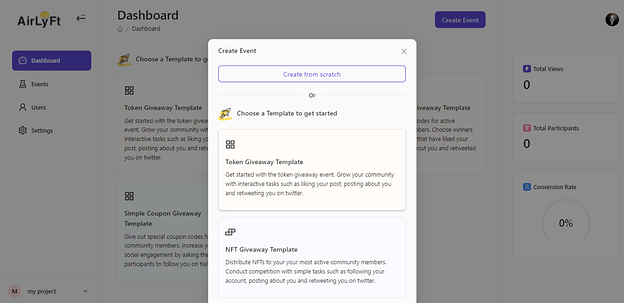 ENTERING EVENT DETAILS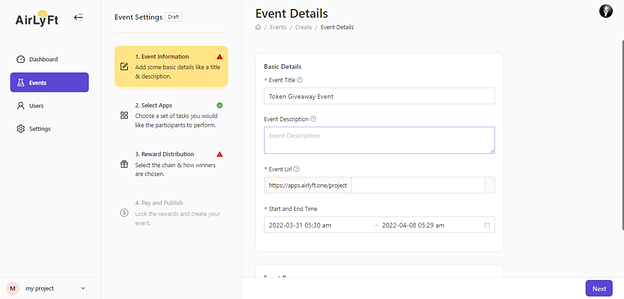 SELECTING APPS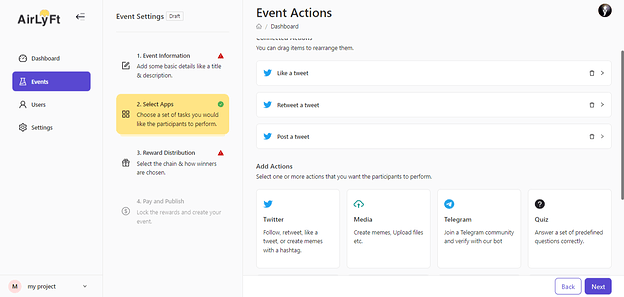 REWARD DISTRIBUTION: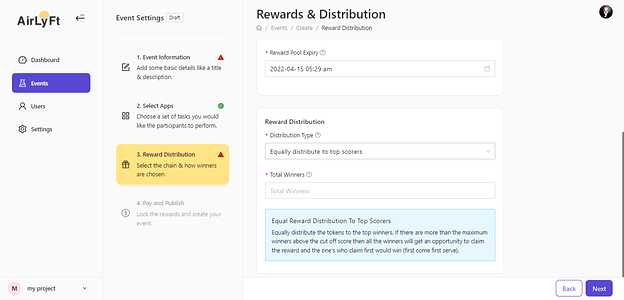 PROJECT DETAILS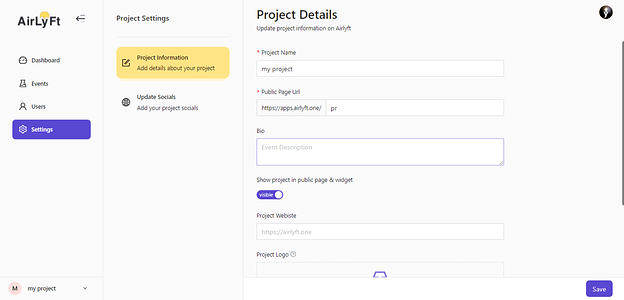 Partnership & Collaborations
From project partnership point of view, we have partnered with more than 35 projects in the last 1 month which are Pangolin Finance, Heroes of NFT, YAY Games, Lydia Finance, SnowCone DAO, Smashheroes NFT, MetaXeno, Hatchy Pocket, Crypto Seals, Husky Avax, Unfettered, SnowBall DeFi, Avata Network, Lost Worlds NFT, Onston network, Mobipad, Deliq Finance, Elk Finance, Forward Protocol, Dragon Crypto Gaming, YUSER, Pandora Finance, Evolution Land, Wizzare, OIG, Zecrey Protocol and many others. Along with that there are multiple other projects which are in pipeline and is still being worked on.
Links
Twitter: https://twitter.com/kyteone
Official Telegram Channel: Telegram: Contact @kyteone
AirLyft Website: https://www.airlyft.one/
Kyte Website: https://www.kyte.one/
AirLyft Litepaper: AirLyft by Kyte.One Litepaper - Build, scale & engage communities - Google Slides
=== Do not change this section ===
By posting a proposal, you accept the rules below:
https://community.iotex.io/t/grant-issuance-rules/3839
Community voting
Community members can vote on grant proposals to facilitate grant assignments to their favorite projects. Please vote on this proposal:
I Like this proposal
I Don't like this proposal
=== When you are ready, please edit this post and fill out milestone reports below below. ===
Milestone Report: #1
Deployment of products pool contracts on IOTEX Blockchain along with setting up entire infrastructure.
Note : At least 2 iotex projects launch on Kyte. At least 100 users participate
Funds Requested: 3000USD
Milestone Report: #2
Thorough testing of the application on the IOTEX chain post-deployment of Mainnet by the Kyte.
NOTE: Business Development Across IOTEX community that includes partnership, reach, and referral connections. At least 5 iotex projects launch on Kyte and at least 1000 users participate
Funds Requested:5000USD
Milestone #3
Educating the community about IOTEX using Smart AirLyft Events such as Smart Contract Integrations, Blockchain integrations, Learn To Earn Events, Interviews, Quiz Based learning, and more.
Note: At least 20 iotex projects launch on Kyte and at least 5000 users participate
Funds Requested: 5000USD