Proposal details
Not quite a DeFi token, I selected the DeFi category due to the fact that the mobile app is focused on decentralization and tying together DeFi projects and communities.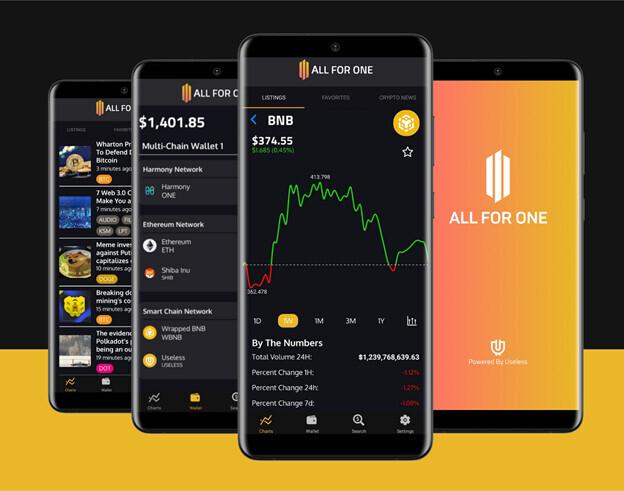 Introducing All For One, powered by Useless Crypto: Reinventing accessibility, convenience and security of cryptocurrency trading.
Trading non-CEX cryptocurrencies implies a steep learning curve. With our All For One mobile app, we enable multi-chain transactions for thousands of decentralized crypto assets on supported blockchains. Users only need to enter the amount and press Buy or Sell.
Our propsoal includes multi-faceted integration with IoTeX, including: chain integration for wallet, wallet transfers, IoTeX network token chartin, whale watching, live transaction data, and a decentralized ranking system for tokens that are part of the IoTeX community.
Project Name
All For One
Project Type
Non-Custodial HD Wallet, Mobile Coin/Token Charting
Proposal Description
Trading non-CEX cryptocurrencies implies a steep learning curve. Completing a simple transaction requires multiple actions across different apps/websites due to the absence of a user-friendly infrastructure. All For One, developed for both iOS and Android, aims to solve this major hurdle.
Our target customer segment is both new retail investors who have between zero to low experience with crypto – who are overwhelmed by the multi-step complexity to investing in tens of thousands of available decentralized crypto assets. Our secondary target customer segment is more experienced traders who see the value in a consolidated user experience.
Our proposal is integration of IoTeX in the All For One app for both the non-custodial multi-chain wallet, but also for charting for IoTeX tokens in the IoTeX ecosystem, as well as in-app buying and selling of tokens through our Decentralized Exchange Network.
Selected features:
Multi-chain wallet: Assets from multiple chains at a glance without manual switching between all the supported networks
Multiple wallets in one screen: Users always have an overview of all wallets and do not need to switch between accounts
Accurate real-time prices: No inaccurate pricing via third-party providers as pricing is real-time and directly from the blockchain
In-App Buy/Sells: We facilitate trading via registered DEXs native to the chain, finding the best liquidity pairing with the least price impact.
Decentralized ranking: Instead of banner ads, for each supported chain, we launch a decentralized ranking system to where communities can promote their projects in-app King-of-the-Hill style. We have a dedicated tab for decentralized community token rankings.
More information can be found at https://allforone.app
Traction: 5,700+ active beta testers
Launch date: Within the next 30 days on both Apple and Google Play stores. Open beta is available on the website via the special links so you can see what we already have.
Milestones
Milestone 1:

Wallet integration for IoTeX chain: 1 month
Deliverables: Prototype (develop branch) version has working wallet support for IoTeX native coin and IoTeX tokens, including in-app token and native coin transfers.
Funds request (USD): $15,000

Milestone 2:

Charting integration for IoTeX chain: 1 month
Deliverables: Prototype (develop branch) version has working charting support for IoTeX native coin and IoTeX tokens.
Funds request (USD): $15,000

Milestone 3:

Whale-watching, live transaction integration for IoTeX chain: 1 month
Deliverables: Prototype (develop branch) version has working live transaction and whale-watching support for IoTeX native coin and IoTeX tokens.
Funds request (USD): $10,000

Milestone 4:

QA, final polishing, and release: 1 month
Deliverables: Bugfixing, polishing, regression testing, QA pass, and final release of all integration pieces.
Funds request (USD): $10,000
Total funds requested
$50k
Please checkmark the following if you agree
We commit to open source the project: NO
We commit to stake [ AMOUNT ] IOTX on the IoTeX Blockchain: NO
We commit to donate [ PERCENTAGE ] of [ OUR TOKEN ] to the IoTeX Foundation: NO
About your Team
David Wyly, CEO
15 years of Software Engineering and Management
https://twitter.com/cryptocarc
https://www.linkedin.com/in/davidwyly
Lance Badger, CTO
15 years of DevOps Engineering and System Architecture
https://www.linkedin.com/in/lancebadger
Amir Arafat, Chief App Architect
12 years in UI Engineering in Mobile Architecture and Development
Joseph Andrews, CPO
7 years in Software Engineering and Product Management
https://www.linkedin.com/in/andrews-j/
Jackie Dutton, CMO
6 years in Marketing and Event Management
https://twitter.com/thejackiedutton
Stefan Alexandrov, CFO
4 years in Macroeconomic Research and Finance
Metrics
[If applicable, please provide the number of users/transactions you expect your product to bring to the IoTeX ecosystem]
Links
https://allforone.app
https://twitter.com/AppAllForOne
https://discord.com/UslessCrypto
=== Do not change this section ===
By posting a proposal, you accept the rules below:
https://community.iotex.io/t/grant-issuance-rules/3839
Community voting
Community members can vote on grant proposals to facilitate grants assignments to their favorite projects. Please vote on this proposal:
I Like this proposal
I Don't like this proposal
=== When you are ready, please edit this post and fill out mileston reports below below. ===
Milestone Report: #1


Invoice form has been filled out correctly for this milestone.
Deliverable Title: …
Proof: …Please provide a link to resources and/or a demo video
Note: …
Payment tx: …please leave this empty
Milestone Report: #2


Invoice form has been filled out correctly for this milestone.
Deliverable Title: …
Proof: …Please provide a link to resources and/or a demo video
Note: …
Payment tx: …please leave this empty
Milestone Report: #3


Invoice form has been filled out correctly for this milestone.
Deliverable Title: …
Proof: …Please provide a link to resources and/or a demo video
Note: …
Payment tx: …please leave this empty