Proposal details
Project Name
Bwitter
Project Type
[ New DApp, Integrate IoTeX, SocialFi, DEFI, DAO, NFT ]
Proposal Description
[ Bwitter is a decentralized social, microblog on the blockchain, and every tweet, comment, like, tap, retweet, follow on the chain is stored persistently.
            **Bwitter = Twitter (Weibo) + Robinhood (DEFI) + NFT.**

Everyone's right to speak freely should not be taken away by centralized platforms at will. With the blocking of the Twitter account of US President Donald Trump, we learn that centralized platforms are not always as free as advertised. The right to free speech needs to be protected by decentralized, anonymous, and tamper-evident blockchain technology withoutfear of blocking and deleting posts.
a decentralized social media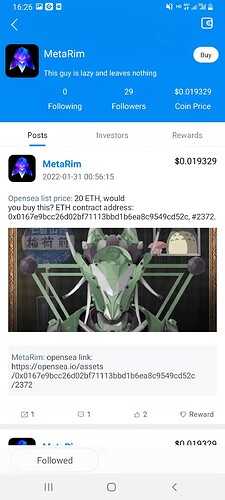 creator coins
Each IP can have creator coins for fans to invest and share IP growth.
DAO
Council nodes and supervisor nodes are voted from community. There are only 21 councils generated from top voted nodes. Council and supervisor nodes has block reward periodically. Voters of the nodes share the block rewards according to voting power.
Milestones
Milestone 1:

Duration (weeks): 4 weeks
Bwitter H5 & PC integration with IoTeX on https://social.bwitter.co
Funds request (USD): 10,000 USD

Milestone 2:

Duration (weeks): 4 weeks
Bwitter Android integration with IoTeX
Funds request (USD): 10,000 USD

Milestone 3:
Total funds requested
[ 30,000 USD ]
About your Team
[ We are anonymous developers, please contact us via [email protected] ]
Metrics
[At least 3,000 users that started using Bwitter with no IoTeX assets and then have IoTeX assets at the end of 12 weeks.]
Links
=== Do not change this section ===
By posting a proposal, you accept the rules below:
https://community.iotex.io/t/grant-issuance-rules/3839
Community voting
Community members can vote on grant proposals to facilitate grants assignments to their favorite projects. Please vote on this proposal:
I Like this proposal
I Don't like this proposal
=== Please add Milestone Reports below ===