Proposal details
Project Name
[MachineFi Asia Web3 Incubator ]
Project Type
[ Pomote MachineFi developer ecossytem]
Proposal Description
Summary
The main purpose of the proposal is to apply for the establishment of MachineFi Asia Web3 Incubator based on IoTeX 2.0 blockchain network, which can attract more Asian developers to build their DAOs, projects and dApp startups on IoTeX to create more utility dApps and more creative and innovative projects to thrive the MachineFi ecosystem, which will greatly enhance MachineFi's influence and market size to help attract more investors and rise to a new level in the Asian market, while helping MachineFi surpass Defi and GameFi to become one of the most competitive blockchain economies.
Backgroud
1.IoTeX is being seriously undervalued
Blockchain is a new technology revolution after the internet, with more and more people rushing in to participate in minting value in the blockchain economy. The public blockchain has been the most important infrastructure to build a decentralized ecosystem, meanwhile its most drastic competition is to occur among the public blockchains.
The table shows the market cap of main public blockchains ranking:
| Public blockchain | TVL | Ranking |
| --- | --- | --- |
| Bitcoin | $370,704,267,754 | 1 |
| Ethereum | $166,112,166,067 | 2 |
| Solana | $11,383,353,009 | 3 |
| Polkadot | $7,103,900,413 | 4 |
| Polygon | $6,600,294,913 | 5 |
| Avalanche | $5,046,751,596 | 6 |
| Flow | $1,746,151,191 | 7 |
| Fantom | $582,675,386 | 8 |
| IoTeX | $262,980,558 | 9 |
Judging from the present situation, IoTeX has the smallest market cap among most of the main public blockchains with an accurate ranking of 112 by CMC data. However IoTeX is the only one of all public blockchains being devoted to building a new machine blockchain economy and it is still innovating towards the MachineFi revolution to equip machines with all of the tools they need to be self-sovereign and allow users to monetize the unique services and intelligence from their machines.
Actually our life has been surrounded by all kinds of machines, everyday we all need to use those smart machines to monitor and manage our life and health. For example, we use a sweeping robot to do house cleaning, use smart electronic balance to weigh oursef,use smart air conditioning to clean home air etc. Even if we have been sleeping, those robots and smart machines are working day and night, they never take a rest, so as IoTeX whitepaper mentioned, once we can convert those machines to workforce, those will generate huge productivity into our world, we so excited to see IoTeX to be devoted to realize that vision that bring change our life and world.
Meanwhile, the IoTeX team has proved that they are able to build collaboration with those great partners, such as Google, Samsung, BlockVC etc. meanwhile they are still innovative towards the next much bigger vision, so it's really undervalued.
2.How MachineFi is to be a 100-billion racetrack
As everyone knows, TVL is highly relevant with the dApp ecosystem. Since public blockchain is the infrastructure of the blockchain economy, every public blockchain has their own killer racetrack to promote their dApp ecosystem.
The killer racetrack of Ethereum is the technology of smart contract and token issuing, enhancing itself to be the most famous public chain with the biggest TVL next to BTC.
Avalanche labs put their effort and funding to DeFi racetrack that drives their TVl to 2 Billion in a short time.
Solana foundation focuses on increasing TVL through betting on NFT racetracks that let their TVL reach 7 Billion in a very short time.
So now IoTeX establishes a superb strategy and long-term vision of MachineFi based on IoTeX 2.0 protocols and products that will make MachineFi realize its vision. So the only question is how can MachineFi reach its goals, which is to be a racetrack of more than 100 billion for outpacing DeFi and GameFi to be the biggest racetrack of the blockchain ecosystem.
3.Web3 and DAO will bring massive users to empower MachineFi
As mentioned in the MachineFi whitepaper, more than 150 new machines were activated every second, McKinsey predicts machines will outnumber humans by 10:1 and generate more than $12 trillion in economic value by 2023. Along with the web paradigm shift from Web2 to Web3 with community-owned, permission-less, free-market, and decentralized networks, it's a huge opportunity for MachineFi to grow. IoTeX is the biggest and most famous machine-oriented blockchain development network, so if we can attract a number of developers to build their Web3 and DAO on the IoTeX blockchain network, it will expand the MachineFi ecosystem by bringing massive users, products and billions of dollars.
4.There are a huge number of developers who can build Web3 in Asia, especially in China.
As everyone knows, Asia has the largest number of developers in the fields of internet and blockchain, especially in China. There are about 7 million developers according to the data of 2022 in China. If we add the number of people in marketing, operation, moderating, etc, the total number should reach more than 10 million. In according to Vietnam IT market report 2020 by TopDev shows that in the quarter 1 of 2021, Vietnam has over 430,000 software developers and more than 55,000 IT students graduating from 153 IT institutions each year, so without any doubt that Asia is a huge blue ocean market if any blockchain projects want to build high quality and massive developers ecosystem, most of important is that will bring much more attentions and potential investors to put much more power to IoTeX and MachineFi.
Solution
We need to attract many more developers to build their blockchain startups on IoTeX to expand MachineFi economy, which will cover all current hot topics such as DAO, NFT, DID, Metaverse, Defi, GameFi, or else. Meanwhile, at the same time, we also need to migrate developers from other public blockchains to MachineFi to build many more dApps under the IoTeX 2.0 network to thrive MachineFi economy, increase TVL, and enhance brand influence in the Web3 era.
Methodology
Launch MachineFi Asia Web3 Incubator
The incubator's purpose is to attract thousands of Asian developers to know MachineFi and be willing to build their Web3 dApps on IoTeX 2.0 protocol to promote MachineFi economy. Apparently, it will not only promote the IoTeX developers ecosystem, but also create more high-quality dApps to develop the MachineFi economy.
To achieve that, Comunion will support deploying basic startup paradigm services, ComerID(a kind of DID), Comer-NFT, CBI to IoTeX 2.0, and also support BEP-20 format IOTX as CBI rewards to airdrop all Comunion users that will bring buy pressure to pump IoTeX. Meanwhile it would be better if we can build a long-term official cooperation with support from IoTeX media, community and brand.
Execution plan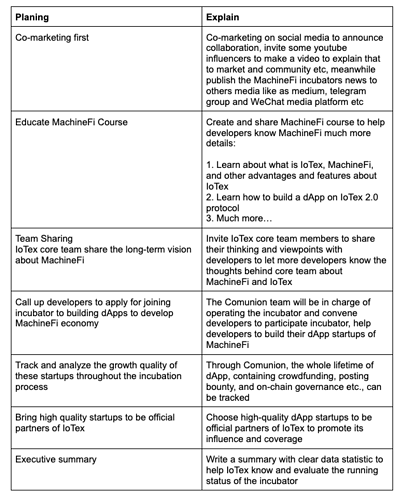 Why choose Comunion
1.A totally new startup paradigm which remove the barrier of building a startup which will help massive developers to build straightly their dApps to expand MachineFi
As everyone knows, traditional incubators or grants invoke the startup as a basic unit, but few individuals have the ability to build a startup using the traditional startup paradigm. The high barrier to creating a startup, raising money from venture capital for example, results in fewer startups being created and surviving, which prevents most people from building startups. Therefore, no incubator can gather enough startups after 2-3 periods, meanwhile it is a huge barrier to some talents.
But Comunion is a totally different startup paradigm that helps individuals to connect the builders who have the same vision to co-build the startup together, so the individual can apply for joining MachineFi incubator to build MachineFi dApp through Comunion paradigm to build their team at the same time.
2.Revelant resources advantages
There are many very famous universities of science and engineering, like the University of Electronic Science and Technology of China, Harbin Institute of Technology etc. Comunion team has a strong collaboration relation with them, so we can call up many professional hardware-developments engineers joining MachineFi incubator to build MachineFi, that will bring tons of new developers. Most important is that they are all excellent professional talent in the IOT, so that will bring long-term benefits to IoTeX vision.
3.Evaluate dApp quality through quantified indications
To prevent some project just for applying grants which is general cases that some team build a demo just for grant, but they will give up building project once they got grants, but if using Comunion to run incubator, you can set some basic monitor indications to evaluate project for deciding whose projects are eligible to join MachineFi incubator, such as you can set the amount of raising funding, watch the executing process of bounty and governance etc .all of these indications can help you to pick up real high quality dApp, that not only can enhance incubator operation efficiency and capital efficiency, but also help you to avoid not necessary loss.
4.Much efficient to incubate high quality project
Through all quantified indications filtering, we can get the really high quality dApp which build on MachineFi, because that means the dApp has ability to get funding through dCrowdfunding to make itself survive, it can also attract other builders to co-build it, it has transparent and science governance mechanism etc, so actually once the dApp can go through those monitor indications, they will be a real high quality product that will bring massive users and funding to MachineFi ecosystem.
Milestones
Milestone 1:
IoTeX Mainnet development
Funds request: $3000 USDT
Note: Comunion is an experienced and professional blockchain team, so we use much lower cost to deploy product IoTeX 2.0, contains smart contract audit and cloud server etc .
1.Comunion Integrated iotex
2.Build machinefiDAO and machinefi project management system
3.Co-branding with iotex&Machinefi
4.Make arrangements for IoTex Web3 Accelerator
5.Accelerator launch(online)
Milestone 2
Funds request: $5000 USDT
1.Collaborate with more than 3 vertical technology communities in the China and Vietnam
2.Invite more than 5 DAOs for incubating their projects on MAWI
3.Market MAWI for improving MachineFi and IoTeX influence in Asia
4.At least 1 potential collaboration projects for machinefi
Milestone 3
Funds request: $2000 USDT
1.Invite some media editors and CryptoWeb3 influencers to participate in the eventMachineFi core team.
2.Incubate at least 3 machinefi projects
3.Accumulate at least 500 machinefi users in MAWI
Hightlight
Most grants will be assigned to build the brand of MachineFi Asia Web3 Incubator and the marketing part for attracting many more developers who are willing to build their projects on the IoTeX 2.0 protocol to expand and promote MachineFi influence in Asia, especially in China. Therefore, the Comunion team can afford most of the development fees, so our aim is to bring most of the web2 developers who are in China to IoTeX 2.0 to build their web-3 Startup to expand the MachineFi economy.
Total funds requested
[ 10000 USDC(or equal in value IOTX)]
Please checkmark the following if you agree
Although these options are not mandatory, please consider committing to them for the greater benefit of the IoTeX ecosystem.
We commit to open source the project: [ YES ]
We commit to donate [ CBI ] to the IoTeX Foundation: [ YES ]
About your Team
Pistis, graduated from Northeastern University, information security professional
in China, has 6 years of bigdata and web2 development experience. 4 years of experience to build a health-care startup as founder which reach 1 billion rmb market size, invested BTC and BTC-Miner from 2016, across middle-east and middle-asia to deploy miner for minting BTC and ETH. Since 2018 to build Comunion by DAO model unitl now.
Mark zhang, graduated from Singapore University of Technology and Design, have 10+ years vc investment and blockchain experiences, worked in Abu Dhabi bank from 2012-2019, have extensive connections of VC, blockchain entrepreuners and other resources in Asia.
Metrics
Our goal is to build the best and biggest Asia Web3 incubator to expand MachineFi on IoTeX
| Metrics | Key result | Period(incubator) |
| --- | --- | --- |
| 2 | Launching incubator once per 3 months | 2 |
| >= 7 | The number of dApps incubated per time | 1 |
| >= 2 | High quality dApps incubated per time | 1 |
| 5 articles + 5 community | 1. Post at least 5 articles on famous media platform and KOL's accounts and collaborate with at least 5 DAOs | 1 |
| 20-50 | New developers brought to IoTeX | 1 |
Links
Webstie: https://comunion.org
Twitter: https://twitter.com/Comunion01
Discord: Comunion Economics
Docs: https://docs.comunion.org
KYC: Coinscope | Comunion KYC
=== Do not change this section ===
By posting a proposal, you accept the rules below:
https://community.iotex.io/t/grant-issuance-rules/3839
Community voting
Community members can vote on grant proposals to facilitate grants assignments to their favorite projects. Please vote on this proposal:
I Like this proposal
I Don't like this proposal
=== When you are ready, please edit this post and fill out mileston reports below below. ===
Milestone Report: #1


Invoice form has been filled out correctly for this milestone.
Deliverable Title: …
Proof: …Please provide a link to resources and/or a demo video
Note: …
Payment tx: …please leave this empty
Milestone Report: #2


Invoice form has been filled out correctly for this milestone.
Deliverable Title: …
Proof: …Please provide a link to resources and/or a demo video
Note: …
Payment tx: …please leave this empty
Milestone Report: #3


Invoice form has been filled out correctly for this milestone.
Deliverable Title: …
Proof: …Please provide a link to resources and/or a demo video
Note: …
Payment tx: …please leave this empty