Project Name
Infinity Wallet
Project Type
Integration and support of the IoTex Ecosystem
Proposal Description
Infinity Wallet is an all-in-one, non-custodial multi-chain wallet platform and gateway providing users globally (currently supporting 150,000+ users ) with easy access to DeFi, Web3 and DApps. All within a single wallet ecosystem providing a wide range of services and features, as a decentralized hub and one-stop point of access to decentralized finance and the Web 3.0. Infinity Wallet has been engineered and crafted to the smallest detail, to bring a smooth, secure and seamless experience to all users, no matter their experience.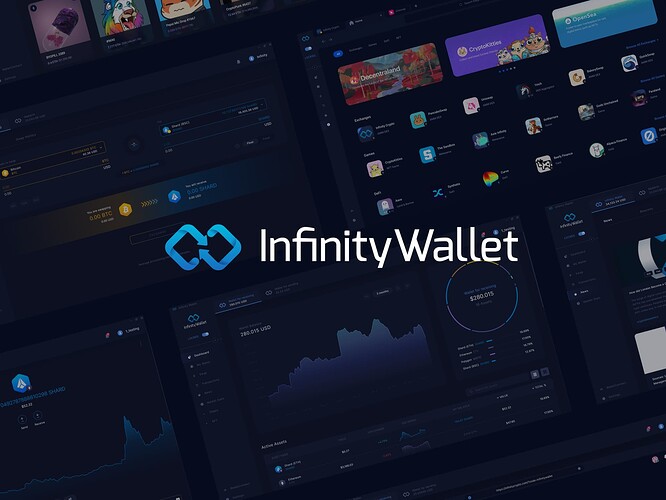 At Infinity Wallet we are constantly building to provide the best possible user experience, streamlining the adoption of cryptocurrency, decentralized finance and Web3 globally. Actively working with top projects (DApps, Chains, Tokens and others) in the cryptocurrency, DeFi and Web3 space to find ways to bring further value for all.
Our approach focuses on constantly enhancing the user experience and lowering the barrier to entry for easier adoption of decentralized finance, decentralized applications and web 3.0 globally, providing a world-class experience by focusing on 3 primary objectives:
Professional and easy to use interface - prioritizing ease of use with a constant focus on making onboarding and accessing DeFi and web3 as seamless and intuitive as possible;

User Experience - providing the best in-house user experience, with live support and access to all the information/resources a user may need to make their learning experience as easy and enjoyable as possible, with quick solutions to issues;

One-stop solution - satisfy the needs of all users by providing access to a range of chains and constant unique features/services/products, while also tapping into the untapped demands of users with a user first and community approach;
Some of Infinity Wallets many features include:
Some future developments currently on the roadmap include:
Release of Mobile wallet for Android and iOS - Sneak Peak;
Cross-chain Dex Aggregator for supported chains;
Fiat to/from Crypto;
Staking support for chains and tokens;
DeFi lending and borrowing;
New wallet types;
Infinity Wallet currently supports over 18 chains, of which the majority we are partnered with in supporting their chain and collaborating with their ecosystem to drive further growth.
Benefit to IoTeX Ecosystem
Infinity Wallet provides a wide range of benefits to chains, DApps and users alike. Integration of IoTeX into Infinity Wallet will provide IoTeX with a unique solution on desktop to access the IoTeX ecosystem, further driving adoption, awareness and ease of use of IoTeX to our current 150,000+ users and all future users. Additionally, we will look to collaborate with IoTeX DApps on direct integration into the Infinity Wallet, providing them with additional awareness and potential adoption.
Infinity Wallet is a constantly evolving ecosystem, once IoTeX is integrated it will additionally be supported across future developments where possible. This will provide further long term value to IoTeX!
Integration requirements
As part of the support of IoTeX we would require:
Collaboration in putting us in contact with projects in the IoTeX ecosystem;

A small one-time grant to help cover part of the overall costs of the integration and continuous support (maintenance, integration of DApps, user live support, integration into future developments, and much more) of IoTeX.
Milestones
Milestone 1:

Duration (weeks): 6-8 weeks
Deliverables (make sure they can be easily verified): Complete integration of IoTeX into the Infinity Wallet and its wide range of features, along with live launch and announcement across social channels;
Funds request (USD): 50,000 USD
Additionally, Infinity Wallet will continue to support IoTeX across further developments and integrations as we do with all chains we support. This also includes integration into the future Infinity Wallet mobile release, providing IoTeX with constant new value.
Total funds requested
$50,000 in IoTeX
About your Team
Over the last 2 years we have been building on our DeFi & Web3 wallet ecosystem. Our team have been involved in the crypto realm for almost a decade and have a vast amount of experience and understanding of major shortcomings in the market, along with what is needed to onboard the next 1 billion users.
We have taken part in numerous hackathons and contests, been selected for the BNB Chain MVB IV, and voted top 10 KCC ecosystem project in the KCC Unicorn Contest. We are also currently working with several chains on a grant and partnership basis to help grow and support their ecosystems in the Infinity Wallet.
Metrics
The number that would use IoTeX would be difficult to estimate, however we have had multiple users reach out to us regarding the integration and support of IoTeX, so we expect there could be a significant demand for IoTeX. Additionally, an integration into the Infinity Wallet will help drive further awareness of the ecosystem and adoption.
Some metrics regarding the Infinity Wallet:
150,000+ users;
600,000+ transactions this year;
$400,000,000+ secured;
18 chains supported;
Links
Website: https://infinitywallet.io/
Information Deck: https://infinitywallet.io/docs/Infinity%20Wallet%20Deck.pdf
Browser-less DApps & Web3 video: Browser-less DApps with Infinity Wallet (Access all DApps at a click of a button) - YouTube
Documentation: https://docs.infinitywallet.io/
By posting a proposal, you accept the rules below:
https://community.iotex.io/t/grant-issuance-rules/3839
Community voting
Community members can vote on grant proposals to facilitate grants assignments to their favorite projects. Please vote on this proposal:
I Like this proposal
I Don't like this proposal
=== When you are ready, please edit this post and fill out mileston reports below below. ===
Milestone Report: #1


Invoice form has been filled out correctly for this milestone.
Deliverable Title: …
Proof: …Please provide a link to resources and/or a demo video
Note: …
Payment tx: …please leave this empty