Proposal details
Project Name
MetaBlox
Project Type
Web3.0 Infrastructure
Proposal Description
MetaBlox is a Web 3.0 user-centric infrastructure, and MetaBlox protocol is a Decentralized ID (DID) and Verifiable Credential (VC) based data management protocol.
Product Highlight:

MetaBlox allows users to use Web3.0 DID to roam among WIFI networks, achieving cellular style "web3.0 roaming".
Benefits to customers:
 Free to use and user determines what and how to share data.
 Enterprise level security.
 Autonomous operation with the help from tokenomics.
Benefits to Telcos:
 Reduce the demand of small cells, particularly in densely populated areas.
 Cost down of in-building solutions.
 Power conservation, easy to meet carbon reduction goal.
 A decentralized foundation for Web 3.0 applications. MetaBlox protocol is compatible with the latest W3C standard, connecting the Web2.0 and Web3.0 world. Other than that, it is also independent of a single L1 blockchain, compatible with all major blockchain networks. MetaBlox is also the first public chain implementation of Linux Foundation Trust Over IP stack.
 MetaBlox turns WIFI hotspots into decentralized miners, forming a single wireless network. MetaBlox could bootstrap an initial network with its founding alliance members project funnels. Since the WiFi market is 500 times larger than the LoraWAN as Helium is using, the success of Helium indicates that MetaBlox has a great potential. In addition to this merit, the market value of WIFI gateway is over 10 billion USD per year.
 The opportunity between MetaBlox and IoTeX:

 Same vision and compound benefits to users
MetaBlox and IoTeX both support a decentralized Internet of Things network and dedicate to providing a user centric and privacy protected network to the users. IoTeX works on a L1 network and MetaBlox works on a protocol to support the L1 network. Essentially, MetaBlox could be the middleware which connects Dapps and the underline blockchain like IoTeX. The design concept and principles are consistent in general which will make the integration much easier.
 MetaBlox will help IoTeX acquire users.
The anchor application of MetaBlox is a free and self-governance WiFi access network. With all of the efforts MetaBlox team puts in, it is expected that a lot of users will be acquired who can further enjoy the benefits which the IoTeX ecosystem can provide. We expect MetaBlox to touch 280 million users in 3 years and this alone will bring a lot of use cases to IoTeX
 MetaBlox will support IoTeX roadmap
Based on IoTeX 2.0 "Proof of Anything" roadmap, there are four steps between the real world and blockchain world. IoTeX believes that ultimately users could own and control their machines, as well as free the data from the centralized control through "Secure hardware" + "Real world data protocol" + "Decentralized identity (DID)" + "Dapps". It is worthwhile to point out that MetaBlox WiFi miners follow the exact same design concept and it can be considered as one of the early demonstrations of IoTeX roadmap. It uses ARM trustzone as the secured hardware, a Verifiable Credentials based data exchange model as a data oracle, a DID utility and anchor applications (integrating DiD/VC with hotspot 2.0 to achieve WiFi roaming) In fact, MetaBlox protocol is one of the first public chain implementation of Linux foundation Trust-Over-IP stack which will further resonate IoTeX's vision.
Why choose MetaBlox:

 Concept validation
MetaBlox miner is a faithful implementation of IoTeX "Proof of Anythig" and MetaBlox could help IoTeX to verify its concept and roadmap.
 Hardware production / sales capability
MetaBlox was founded by a few founding alliance members, including public listed companies, which are established in the IoT and Telco domain. MetaBlox can leverage a strong supply chain from them and have access to industrial leaders like Qualcomm, Telus, Globe, NetOne, and DITO. MetaBlox has sales channels active in North America, South East Asia, Middle East, and Africa. MetaBlox is backed by leading token funds in North America as well as venture partners. Currently, MetaBlox is taking on the mission to grow the number of the network nodes to over 400,000 in two years, same as the initial growth trajectory of Helium.
 Professional social media/community build
MetaBlox has a dynamic and energetic marketing team. Currently, we have over 20 people working full time for MetaBlox and they are located in US, Canada, Brazil, Phillippines, India and Dubai. The leaders are experienced with DeFi, GameFi, NFT and Web3 infrastructure projects. In fact, MetaBlox has a very active Telegram community and has hosted more than 20 activities on different platforms where the project or AMA are introduced to the public in the past month. MetaBlox will have its official launch in 2022 NYC NFT and has been backed by a community over 500,000 people (online + offline)
 MetaBlox can become a solid community member of IoTeX
As an IoT industry-leading project, IoTex established a vast industrial ecology system. It is a golden opportunity for us to collaborate with each other and generate the buzz in the industry. MetaBlox is very happy to align its miners with IoTeX network to bring use cases as well as data traffic to IoTeX ecosystem. MetaBlox protocol can be integrated with IoTeX L1 network and provides open-source SDKs for IoTeX Dapp developers to use "Real World Data Oracle" as well as DID utility tools.
It will be grateful if IoTeX could subsidy a grant or investment of $ 250,000 USD to help MetaBlox to be integrated with IoTeX community and make contributions. 50% of the cost will be allocated to the engineering team for developing MetaBlox protocol SDKs for IoTeX as well as ensure the initial WiFi miner could work with IOTX network. A small engineering pilot run production will be performed for this purpose. The other 50% of the proceeds will be allocated to the project deployment including, marketing, sales channel development, product distribution, and etc. The objective is the introduce fresh users to the IoTeX community via our mining society and industrial customers.
Milestones
 2018 Blockchain integrated WIFI data sharing devices, which initially envisaged the idea of MetaBlox.
 2019 acquisition of WiGig 60GHz mmWave chip and modules. (Wireless fibers)
 2020: Participate of DITO roll-out in Philippines.
Became Decentralized ID Foundation contribution member and W3C member.
 2021: Winner of world first DID/Telco integration project.
World first blockchain integrated time-series database.
World first blockchain integration with Bluetooth modules.
Release of a series of NFT and GameFi tools.
 2022:
Mar 16th. MetaBlox accomplished the seed round.
MetaBlox has completed its seed round and has raised over $2 million from some. the most highly regarded firms in Web3.0 such as: SYNERGIS, Collab + Currency, NFT Tech, etc.
Mar. 26th. Announce the first EVM compatible MetaBlox protocol with Harmony and. received the $250K USD grant from Harmony.
June, NYC NFT, initial launch of the network and the announcement of roadmap
Sept, First MetaBlox experiencing zone in Philippines will be established
Dec, completion of testing phase of the miner and open for third party miner manufacturers to release their miners
Milestone 1: The engineering team finish developing MetaBlox protocol SDKs for IoTeX as well as ensure the initial WiFi miner could work with IOTX network. A small engineering pilot run production will be performed for this purpose.
 Duration (Weeks): 1-6 weeks (Including: 1-2 weeks of developing, and 1-4 weeks of production and testing).
 Deliverables: MetaBlox-IoTeX WiFi hotspot miners align with MetaBlox protocol and connect IoTeX L1 network.
 Funds request (USD):125,000 USD.
 Metrics: Open-source SDKs for IoTeX Dapps and miner data traffic.
Milestone 2: The deployment of MetaBlox WiFi miner by marketing team, including: marketing, sales channel development, product distribution, and etc.
 Duration (Weeks): 1-6 weeks.
 Deliverable: The MetaBlox -IoTeX WIFI miners are deployed at densely populated area.
 Funds requested (USD): 125,000 USD
 Metrics: user cases (5 users/miner), 1-2000 miners sale (Early time), Market buzz.
 2023:
June, MetaBlox community population > 200K.
Sept, First edge computing miner will be commercially released.
Total funds requested
250,000 USD
About your Team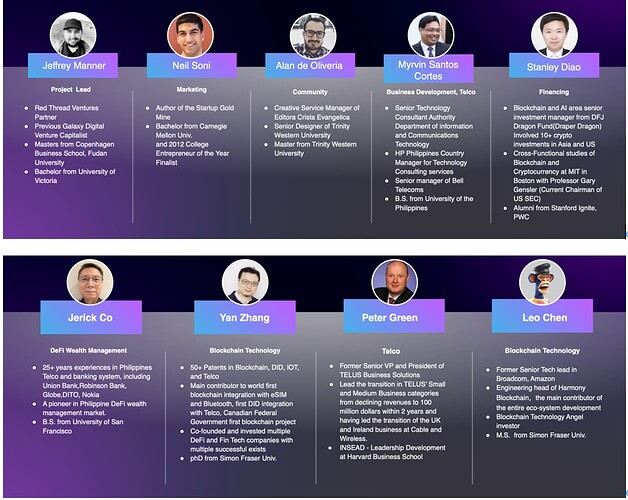 Metrics
||Release of MetaBlox protocol on IOTX
||Release of MetaBlox WiFi miner and the completion of IOTX integration|
||Completion of first MetaBlox experiencing zone and a joint PR event with IoTeX
Links
Website: https://metablox.io.
Whitepaper: (Under progress)
Twitter: https://twitter.com/MetabloxNetwork.
Telegram: Telegram: Contact @ChatonMetaBloxCommunity.
Telegram Announcements: Telegram: Contact @JointoMetaBloxOfficial.
Medium: https://medium.com/@MetabloxNetwork.
Discord: MetaBlox Community.
LinkedIn: https://www.linkedin.com/company/metablox/.
Instagram: Login • Instagram.
=== Do not change this section ===
By posting a proposal, you accept the rules below:
https://community.iotex.io/t/grant-issuance-rules/3839
Community voting
Community members can vote on grant proposals to facilitate grants assignments to their favorite projects. Please vote on this proposal:
I Like this proposal
I Don't like this proposal
=== When you are ready, please edit this post and fill out mileston reports below below. ===
Milestone Report: #1


Invoice form has been filled out correctly for this milestone.
Deliverable Title: …
Proof: …Please provide a link to resources and/or a demo video
Note: …
Payment tx: …please leave this empty
Milestone Report: #2


Invoice form has been filled out correctly for this milestone.
Deliverable Title: …
Proof: …Please provide a link to resources and/or a demo video
Note: …
Payment tx: …please leave this empty
Milestone Report: #3


Invoice form has been filled out correctly for this milestone.
Deliverable Title: …
Proof: …Please provide a link to resources and/or a demo video
Note: …
Payment tx: …please leave this empty