Proposal details
Project Name
TokenQL
Project Type
Blockchain Data Infrastructure
Proposal Description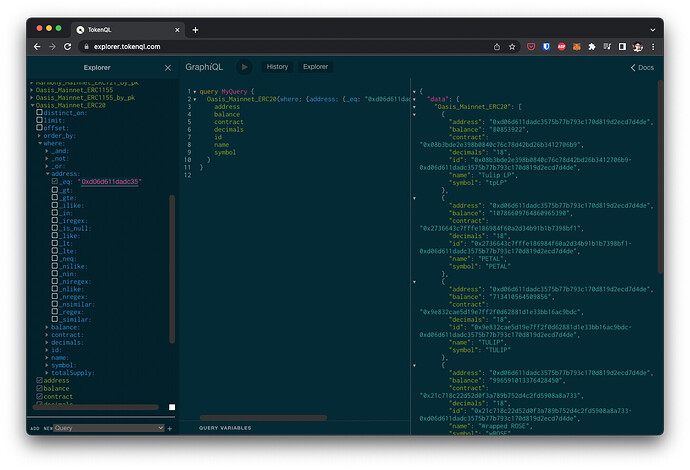 TokenQL is a service that keeps track of all tokens across all chains. It will provide an infrastructure graphql data layer for all applications such as dexes, wallets, explorers and dashboards etc.
Video: TokenQL Demo - YouTube
Medium: https://medium.com/coinmonks/how-do-i-get-all-the-tokens-21ff1607d189
Milestones
[ Split your project into milestones: each one must have its own verifiable deliverables]
Milestone 1:

Duration (weeks): 1 week
Deliverables: Start collecting token data starting on block 0
Funds request (USD): 4,000 USD

Milestone 2:

Duration (weeks): 2-4 months
Deliverables: Complete collecting token data on block ~19 million.
Funds request (USD): 5,000 USD

Milestone 2:

Duration (weeks): 1 month
Deliverables: Partner with new dapp developers on iotex to use the data
Funds request (USD): 1,000 USD
Total funds requested
$10,000
Please checkmark the following if you agree
Although these options are not mandatory, please consider committing to them for the greater benefit of the IoTeX ecosystem.
We commit to open source the project: YES

We commit to stake [ AMOUNT ] IOTX on the IoTeX Blockchain: YES

We commit to donate [ PERCENTAGE ] of [ OUR TOKEN ] to the IoTeX Foundation: YES
About your Team
Leon is a software engineer who has worked at ShapeShift, Binance and has contributed to LND, IPFS and DAOs. He started a company in 2020 connecting game engines to the blockchain and sold it to ChainSafe in 2021.
He's now an blockchain agnostic open source contributor, interested in interoperable infrastructure.
https://www.linkedin.com/in/leon-do/
Metrics
10000-20000
Links
Website: https://tokenql.com
=== Do not change this section ===
By posting a proposal, you accept the rules below:
https://community.iotex.io/t/grant-issuance-rules/3839
Community voting
Community members can vote on grant proposals to facilitate grants assignments to their favorite projects. Please vote on this proposal:
I Like this proposal
I Don't like this proposal
=== When you are ready, please edit this post and fill out mileston reports below below. ===
Milestone Report: #1


Invoice form has been filled out correctly for this milestone.
Deliverable Title: …
Proof: …Please provide a link to resources and/or a demo video
Note: …
Payment tx: …please leave this empty
Milestone Report: #2


Invoice form has been filled out correctly for this milestone.
Deliverable Title: …
Proof: …Please provide a link to resources and/or a demo video
Note: …
Payment tx: …please leave this empty
Milestone Report: #3


Invoice form has been filled out correctly for this milestone.
Deliverable Title: …
Proof: …Please provide a link to resources and/or a demo video
Note: …
Payment tx: …please leave this empty